Chance The Rapper Just Became A Martin Short Fan For Life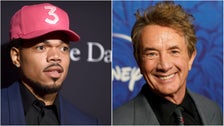 Chance The Rapper had a chance encounter with Martin Short that surely made him a lifetime fan of the actor.
The meeting of the two entertainment titans didn't take place on a film set or at an industry event, but on an airplane when the rapper was traveling with his 7-year-old daughter, Kensli.
Chance noticed that his and his daughter's seats weren't together, but he didn't want to "inconvenience anyone by asking them to swap seats."
However, before he could say anything to his fellow passengers, a man that the rapper described as a "kind older gentleman" offered his seat to Kensli so the dad and daughter could sit together.
Some people might be surprised just to receive a random act of kindness, but the rapper was most shocked by the person who was offering to swap seats: the "Only Murders in the Building" star.
"We both said thank you and as he stands up, I realize it's THE Martin Short!! So cool and Kensli freaked out cause she's obsessed with The Santa Clause 3. What an awesome person!" Chance tweeted.
Although a fan asked Chance if Short recognized him as a fellow celebrity, the musician didn't think that was the case.
"Definitely not, which made it way cooler. He just a nice dude ig," the rapper tweeted.
Other celebs were a little star-struck by Chance's chance encounter.
And some people weren't surprised by Short's kindness to a young parent since he is, after all, Canadian.


Shared From Source link Breaking News