Elon Musk Still Getting Slammed For Elevating Predictions By Putin Ally
Twitter CEO Elon Musk is still getting heat for appearing to gush about tweets posted by a key ally of Russian President Vladimir Putin predicting that America would be ripped apart by civil war, that Musk would become U.S. president, and that a "Fourth Reich" would be created in Europe.
After the messages Monday by Russian Ukrainian War cheerleader Dmitry Medvedev, deputy chair of the Security Council of the Russian Federation, Musk posted: "Epic thread!"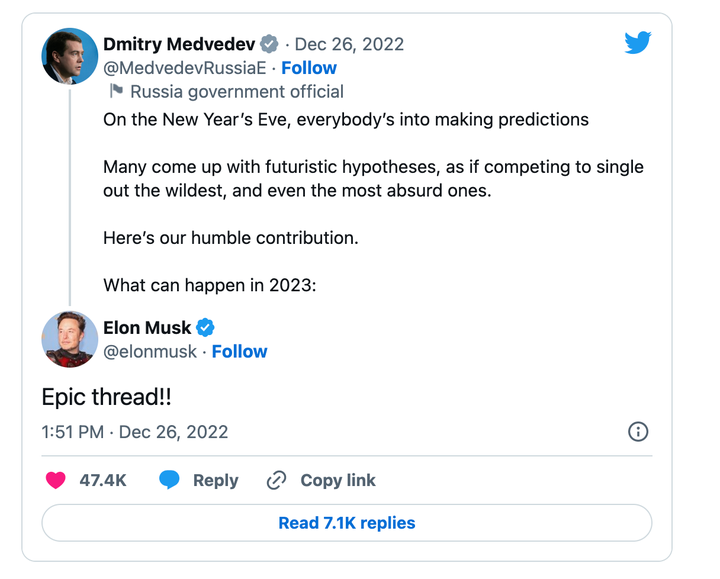 Roughly four hours later — after Musk was swamped by criticism — he mocked Medvedev for the "most absurd predictions I've ever heard."
Some Musk allies insisted the "epic thread" comment was the billionaire's way of "trolling Russian propaganda," a perspective Musk appeared to endorse. Others said he was encouraging the propaganda of a Putin henchman and "genocidal racist."
In either case, Musk's comment helped rocket attention to Medvedev's posts.
In October, Musk pushed his own pro-Russia "peace plan"for Ukraine, despite having no experience in world affairs and global negotiations. He urged Ukraine to cede territory to the nation that invaded it and continues to bomb.
Ukrainian President Volodymyr Zelensky posted a sarcastic Twitter poll in response, asking "which Elon Musk do you like more?" One who supports Ukraine" or "One who supports Russia."
Anti-Putin political activist and world chess champ Garry Kasparov, bashed Musk's plan.
"This is moral idiocy, repetition of Kremlin propaganda, a betrayal of Ukrainian courage and sacrifice, and puts a few minutes browsing Crimea on Wikipedia over the current horrific reality of Putin's bloody war," Kasparov said on Twitter.
Russian expert Fiona Hill, who served on the National Security Council in the Trump Administration — and testified at Donald Trump's first impeachment trial — told Politico in an interview later that Musk was clearly "transmitting a message" for Putin with his plan.


Shared From Source link Breaking News