Ex-Federal Prosecutor Damns Donald Trump Jr. With His Own Dad's Catchphrase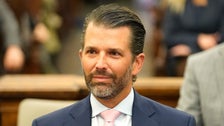 The Trump scion sought to pin blame on accountants who created the documents that are being contested in New York Attorney General Letitia James' $250 million lawsuit against the former president and his business. They are accused of massively overstating the value of their assets for financial gain.
Republican 2024 front-runner Trump, his son Eric Trump and his daughter Ivanka Trump are set to testify in court in the coming days.
Greenberg suggested the "M.O." of the Trumps will be, like Trump Jr. did on Wednesday, to "just point the finger at somebody else, whether it's the CFO [chief financial officer], whether it's the accountant, whether it's the lawyer — anybody that doesn't have the last name Trump."
But Trump Jr.'s blame of the accountants didn't really wash because "ultimately" he "signed these statements of financial condition and said that they were accurate," Greenberg stated. "He doesn't have to be an accountant. He said that the information he provided to the accountants was accurate. And now in the deposition, at least, he said, 'Well, I didn't really have anything to do with that.'"
She added: "You can't have it both ways."


Shared From Source link Breaking News