How I turned prisoners' misery into reading pleasure: the brilliant story of Bang Up Books | Books
It all started during the first Covid lockdown in 2020. I saw a tweet from HMP Pentonville asking for book donations for the prisoners who were stuck in their cells for 24 hours a day. I felt huge sympathy for them, having been sentenced, myself, to five years for tax fraud in 2016. It was far from easy during my jail term, but conditions were far worse during the pandemic as all visits, education and exercise were cancelled.
I called round my literary friends who had too many books on their shelves, and drove a car load to Pentonville, where they were gratefully received. Word quickly spread and I was soon delivering to a dozen jails in London and the home counties.
Prison literacy is something everyone should be concerned about, as approximately 50% of all inmates are functionally illiterate, which is a key factor in their offending. Prison librarians do an excellent job, but in these straitened times they find it difficult to keep their shelves up to date.
After my book about my time inside, A Bit of a Stretch, was published, and my scheme got welcome backing from a raft of top authors including Sathnam Sanghera, Anthony Horowitz and Deborah Moggach, I was able to procure donations from publishing houses. Soon my flat was overflowing with boxes, and I had to rent a storage locker to keep up with the flow.
I needed more hands on deck, and, as the pandemic had curtailed a lot of film production, I enlisted script guru Ben Stoll and my long-suffering cameraman Chris Smith. We spent several months stacking boxes (I put my back out several times trying to show off) and driving across the country in Chris's camera van. We did a huge road trip over Christmas 2020, which nearly came unstuck when we posed for a selfie outside a jail wearing Santa hats: the worried officers nearly called the police.
More prisons joined our list and the scheme quickly took on a life of its own. I gave it a name, Bang Up Books, and got crucial support from a London distribution company, Parallel, which has spent the last two years sourcing and storing thousands of donations.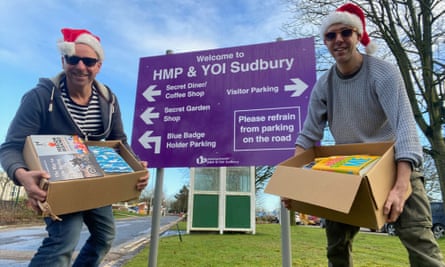 Throughout 2021 and 2022 I was also writing a new book about the reoffending crisis, Time After Time. Many of the friends I made during my sentence kept going back inside, and I wanted to know why the UK has such stubbornly high rates of recidivism.
I started researching the terror attacks that took place in Fishmongers Hall in London in 2019, where two brilliant young people, Jack Merritt and Saskia Jones, tragically lost their lives. The perpetrator, Usman Khan, had offended before and was attending a conference on reoffending.
I found it remarkable that five of the heroes who tackled Khan on London Bridge were ex-offenders who had been rehabilitated (in part) through a Cambridge University scheme called Learning Together. One of them was Marc Conway, who was one of my neighbours at HMP Spring Hill, and who was also a part of Learning Together and had done an Open University degree while inside. His courage and selflessness demonstrated the hugely beneficial power of reading and education in prisons.
Through Marc I met one of Jack's best friends, Laura Suggitt, who worked in a senior role at the Ministry of Justice. She saw the huge potential in Bang Up Books and championed it within government, and the scheme soon had the full backing of her ministry. Laura quickly solved our logistical headaches by mobilising the internal prison distribution network. Now every month a van turns up at Parallel's warehouse in Fulham, which is driven by a serving prisoner out on day release. Ben and I load it up with about 4,000 brand-new books, and it's driven to an open prison in the West Country, where it's unpacked by a team of inmates.
When I was reading I was no longer inside
It's been fascinating to see which genres are popular inside. True crime, cookery and celebrity memoirs are always in high demand, along with self-help books, historical fiction and anything to do with sport. We often get shipments of children's books, which we send to prison visitor centres, so that kids waiting to see their fathers and mothers have something to cheer them up.
Dan Barwell spent nine months in my old home HMP Wandsworth for drug offences, and his cell was a regular stop for the book trolley run by the prison chaplain Liz. "I read 164 books in prison, which is more than I had in my whole life before that. I got really into fantasy novels, the Wheel of Time series were over 1,000 pages each, which ate up a lot of hours," he told me. "When I was reading I was no longer inside."
I recently visited the open prison where our books are sorted and shipped, and spoke to some of the men working on the scheme. They understandably get first dibs on new titles as a perk of the job, and thus have hotly contested positions. One of our recruits showed me a glossy hardback of a computer game bible that he'd recently obtained, and what excited him most was that it was a brand-new copy, with all the smell, texture and feel of pages that were hot off the press. So much in prison is old, worn and tired, so there is a real joy to holding something that has never been opened before.
Last month we had more than 100,000 new books donated to prisons – more than one for every prisoner in the UK. It's an incredible achievement for everyone involved, but we always need more books. So, I'll be knocking on the doors of publishers for the foreseeable future, although my osteopath is begging me to stop lifting two boxes at once when I'm loading up the van.


Shared From Source link Entertainment