Iowa Professor Knocks Pence's 'Appalling' Trans Youth Argument In Emotional Message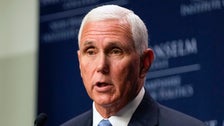 An Iowa professor hit former Vice President Mike Pence with an emotional town hall question about his "appalling" argument against providing transgender young people with gender-affirming care. (You can watch the moment below.)
Melissa McCollister, a social work professor at Grand View University, fought back tears during the NewsNation-hosted event while addressing violence toward trans and gender-nonconforming people and the widespread surge in anti-LGBTQ+ legislation.
"What is your policy plan to protect the transgender community, specifically Black and brown trans women, from historically high levels of violence?" asked McCollister, who described herself as "an LBGTQ member" with trans people in her family.
Pence ― a 2024 presidential hopeful who favors a national ban on gender-affirming care for trans youth ― told McCollister he was "deeply grieved to hear about those tragic circumstances" before saying he hoped she'd hear his "heart" on the topic, too.
"For me, what adults do in their lives, decisions that they make, including transgender adults, is one thing. But for kids under the age of 18 ― I mean, there's a reason why we don't let you drive 'til you're 16," said Pence, who also pointed to age restrictions on getting tattoos and alcohol consumption.
"That's because we understand that kids don't fully understand the consequences of their actions," he said. "When it comes to surgical or chemical procedures, I really believe that we've got to protect our kids from decisions that will affect them the balance of their lives."
More than 35% of trans youth live in states that have passed bans on gender-affirming care, according to the Human Rights Campaign, the nation's largest LGBTQ+ advocacy group.
McCollister, in response to Pence, noted her work on behalf of LGBTQ+ youth and reflected on threats aimed at her, as well.
"I have worked with kids as young as 5 years old that have gender-nonconforming and identities that are transgender. And I've raised one," McCollister said. "And so to hear somebody tell me that it's not OK for young children to make decisions about their gender identity and to ask their school officials for support, protection and help, is appalling."
Pence later weighed in on what he called the "wrong" idea of "telling young, impressionable kids that little boys, that they can become girls or little girls, that they can become boys."
"I'd like to put my arm around any one of those young people and just say, 'We love you, but wait,'" he said. "Wait until you reach an age of majority. Wait until you have a better idea of who you are. And then live the life that you want to live in this free country."


Shared From Source link Breaking News