Jennifer Aniston Cried At Idea Of Losing Matthew Perry In Resurfaced Interview
Footage of Jennifer Aniston weeping over her "Friends" co-star Matthew Perry nearly 20 years ago has resurfaced in the wake of his tragic death.
In Aniston's 2004 interview with Diane Sawyer, she broke down after Sawyer asked her what Perry didn't know about himself but needed to hear.
"That he's alright," she replied, visibly getting emotional.
"He struggled," Aniston continued, referencing Perry's battle with drugs and alcohol.
"We didn't know. We weren't equipped to deal with it," the star said of herself and her fellow cast mates. "Nobody had ever dealt with that. And the idea of even losing him … he's having a road. But he's alright."
Following a jet ski accident in 1997, Perry became addicted to Vicodin, which eventually spiraled into alcohol abuse. In 2000, he was hospitalized with pancreatitis related to his alcohol consumption, US Weekly reports.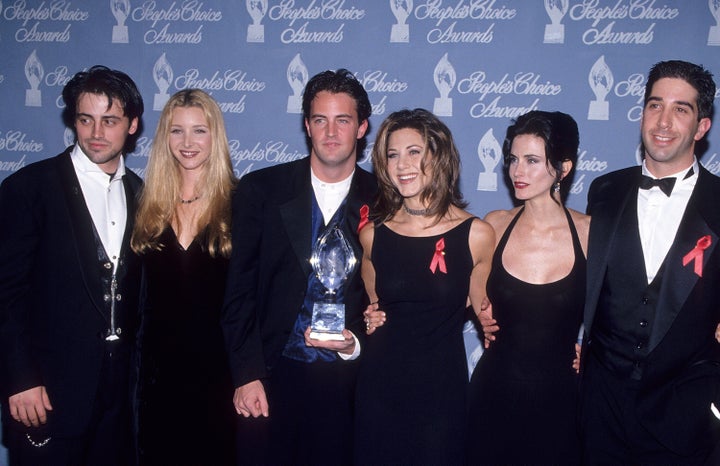 On Saturday, Perry was found dead in his jacuzzi at his Los Angeles-area home. He was 54. The cause of his death has yet to be determined.
TMZ, which first reported Perry's death, said that law enforcement officials confirmed that they hadn't found any drugs or signs of foul play at the scene.
Perry was best known for playing Chandler Bing in the '90s sitcom "Friends" from 1994 to 2004.
He spoke openly about his long path to sobriety in an interview with The New York Times one year before his death.
"I've probably spent $9 million or something trying to get sober," the actor told the outlet in a story that was published in October 2022.
In his memoir "Friends, Lovers and the Big Terrible Thing," released last year, Perry said he spent $7 million on 15 visits to rehab facilities.
He also detailed overcoming a near-fatal health issue in 2018 after his colon exploded from years of opioid overuse, E! News reports.
Need help with substance use disorder or mental health issues? In the U.S., call 800-662-HELP (4357) for the SAMHSA National Helpline.


Shared From Source link Breaking News