Kit Harington Addresses Rumored 'Game Of Thrones' Jon Snow Spin-Off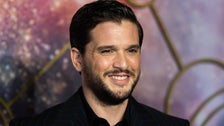 While Jon Snow knows nothing, Kit Harington is well aware of the rabid fervor surrounding his own "Game of Thrones" spin-off.
The native Londoner addressed rumors about the prospective series during an appearance Friday on "The Tonight Show." Harington didn't officially confirm it was in development but admitted that any more bruises to his ego could change that.
"I don't know, man… I walk down the street, and I get recognized a little less nowadays, and it kind of hurts my ego, you know?" I'm pretty close to, like, putting on some furs," Harington told Fallon before adding, "I got a tally in my head of how few photos I get asked for in a day."
He continued: "And when it gets below a certain number, I think I'll do a spin-off."
Fallon then jokingly begged his audience to stop asking Harington for photos in a cheeky attempt to spawn the Snow-laden series. He said, "we would see a 'Game of Thrones' spin-off right now with Jon Snow" if the viewers would stop bothering Harington.
Harington ultimately admitted that he "can't say anything" about his prospective reprisal as Jon Snow. However, news of a sequel series being in early development was first reported in June 2022 by The Hollywood Reporter. Even Maisie Williams, who played his sister, was excited.
"I think it's really exciting, and I think that Kit is such a phenomenal actor," Williams told People last year. "Him playing Jon Snow was just like a cultural reset. I think everything he touches is magic, and I'm excited to see what it will be."
Harington has long suggested that he has been yearning to reprise his role as the King in the North.
The actor told EW during a "Game of Thrones" convention last year that Snow "would've felt he got off lightly" after merely being banished to the Wall in the North after killing Daenerys (Emilia Clarke). However, Harington said what happened next was ripe for exploration.
"He's gotta go back up to the place with all this history and live out his life thinking about how he killed Danny… about Ygritte dying in his arms… about how he hung Olly, and… about all of this trauma," Harington told the outlet. "And that… that's interesting."
Harington added viewers "wanted some kind of little smile that things are OK" at the end but that Snow was definitely "not OK." He described Snow's banishment as "the greatest curse" and seemingly hopes — like Fallon's audience — that it'll one day be depicted.


Shared From Source link Breaking News