Mark Meadows' Defense Is Dismantled By Ex-Trump Attorney Ty Cobb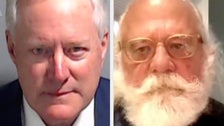 Ty Cobb, a former White House attorney under Donald Trump, on Tuesday succinctly picked apart Mark Meadows' defense in the Georgia election interference case.
Meadows, who served as chief of staff under Trump, has claimed he was just following orders as a federal official as the former president allegedly sought to overturn his 2020 election loss in the state.
Cobb wasn't buying it, though.
"When you serve in that office, you take on a duty to serve and protect the Constitution," Cobb told CNN's Erin Burnett.
"That's the choice you have when you have that level of responsibility," he added. "You're not obligated to break the law."
Meadows, Trump and 17 others were last month charged in the racketeering case brought by Fulton County District Attorney Fani Willis.
Meadows, who is seeking to move his case to a federal court, has pleaded not guilty to two felony charges, of racketeering and solicitation of a violation of oath by a public officer.


Shared From Source link Breaking News