On my radar: Naomi Klein's cultural highlights | Culture
The author and activist Naomi Klein was born in Montreal in 1970. She started writing journalism while at the University of Toronto and published her first book, No Logo, a dissection of consumer culture, in 1999. Her other works include The Shock Doctrine and This Changes Everything, which marked her turn towards environmentalism. Klein lives in British Columbia with her husband, the film-maker Avi Lewis, and their son, Toma. Her latest book, Doppelganger, exploring conspiracy theories and our fractured political culture, is published on 12 September. On 24 September she will be speaking at the Southbank Centre, London, and on 27 September at the Manchester Literature festival.
1. Music
Allison Russell, the Returner tour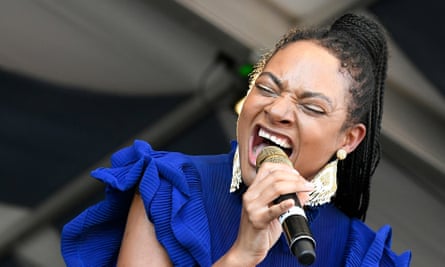 I have her on repeat. Her music, a mix of soul and folk, is all about transmuting trauma into love and joy and power. Last month my husband noticed that she was playing a free concert in Whistler, which is hours away from where we live, but we turned it into a road trip. It was a fantastic show. Russell is a Montreal girl like me, now living in Nashville. She's been a working musician for 20 years and all of a sudden is having her moment. Nightflyer is my favourite of her songs. I would really recommend that people check her out.
2. Visual art
Christi Belcourt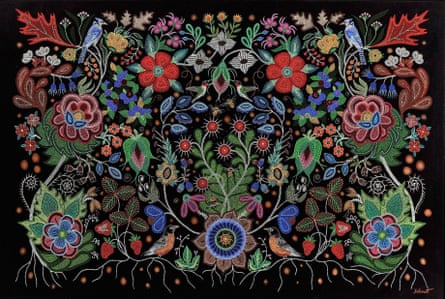 I have a few prints by the brilliant artist Christi Belcourt, which all speak to the sacredness of the natural world. She often paints in dots in the Métis beadwork tradition, and many of her pieces have a rich tapestry of flowers. Her museum pieces are huge and staggering. Her work is also connected to social movements including struggles for justice for murdered and missing Indigenous women. She has a whole series on the sacredness of water which have appeared on banners and posters at anti-pipeline protests.
3. TV
Feel Good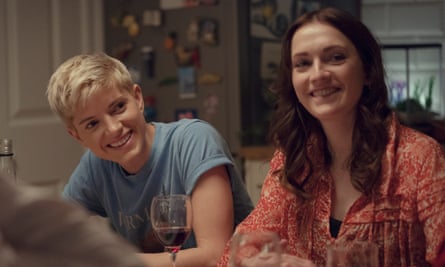 I'm a little embarrassed, as a fellow Canadian, that I was not really following Mae Martin's rise until a Netflix algorithm recommended their standup show Sap. Their comedy is dry and self-deprecating, but there's a wisdom there and a real generosity of spirit. Feel Good is in the subgenre of sitcoms about North Americans in London, but it's far less predictable than Ted Lasso, say. It deals directly with confronting sources of sexual trauma, but does it in a way I haven't seen before. It's their ability to simultaneously hold heaviness and lightness that I find very appealing.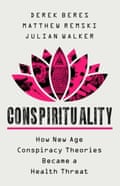 4. Podcast
Conspirituality
This was a huge help in my research for Doppelganger, but also just good listening. It tracks how a lot of seemingly apolitical fitness instructors or yoga teachers suddenly got into QAnon and made some dodgy political alliances with the far right during Covid. They put out a lot of episodes and each one is long. I was listening to a lot of podcasts by people who were spreading vaccine misinformation for my research, so it was a really important antidote to be able to listen to the three hosts of Conspirituality pick it all apart. Start with their episodes on Robert F Kennedy Jr.
5. Memoir
Unearthing by Kyo Maclear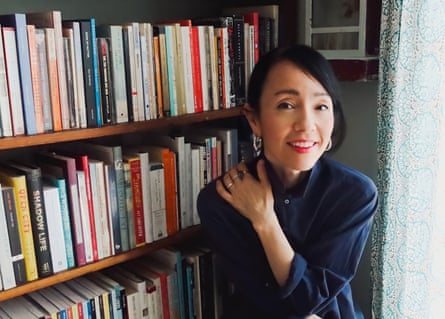 Unearthing is simply staggering. Maclear takes the shocking revelations of a DNA test, finding out that her much-loved father was not her biological father, and transforms them into a mind-altering and supremely generous exploration of kinship, selfhood, memory, and the roots we share across time, space and species. It's a quantum leap for an already brilliant and profound writer and thinker. A highly unconventional "finding my roots" memoir that finds roots everywhere, including in plants. It's just been published in the US and will be out in the UK next year.

6. Journal
Hammer & Hope
This is a new online magazine that comes out of the spirit of the racial justice uprisings of 2020 and covers Black politics and culture. It has a bold aesthetic – the artwork is tremendous – and a really rigorous intellectual approach. It embraces debate and deep discourse, but it's very accessible. It has work from writers and thinkers such as Olúfẹ́mi O Táíwò, who has been writing really interestingly about identity politics. It's an incredibly important new entry to the political discourse, especially in the age of social media and the hot take, because it goes deep, and we need that right now.