Prog, angst and cosmic pyramids: why Daft Punk are my generation's Pink Floyd | Daft Punk
Few records in the 21st century have divided a band's fans as much as Daft Punk's fourth studio album, Random Access Memories. While the reviews were largely positive, a significant swathe of the band's fanbase wondered why they had swapped techno for soft rock. It took me years to come to peace with this beguiling, if confounding, album, until one day the refracted light came on and the pre-decimal penny dropped: Random Access Memories was the 21st century Dark Side of the Moon. And the 10th anniversary reissue of RAM, which arrives on 12 May (coincidentally less than two months after the 50th anniversary edition of Pink Floyd's legendary eighth album) will help to prove it.
The inflection point in my thinking was Horizon, a Japanese-edition bonus track on RAM, which is getting a full release as part of the album's extravagant new triple-LP reissue. It is one of the least electronic songs ever to be released by a duo of electronic musicians: four a half minutes of horizontal space vibes, which stretch out on a base of acoustic guitar, soothing keyboard trills and Greg Leisz's celestial pedal steel. The subtle shade of a drum machine aside, Horizon could pass for a long-lost Dark Side outtake. (It is no surprise that an enterprising music fan has created a mash up of Horizon with the vocal from Pink Floyd's follow-up Wish You Were Here).
But RAM's essential Dark Side energy doesn't just reside in Horizon. With that song's prog tang unlocked, I started to hear it all over the album. The chord sequence and vocal melody of RAM's The Game of Love have all of that album's masterfully languid angst; Within nails the space-y chill that the psych rock band buffed to perfection; and the intro to Touch – a series of keyboard blips that float around on the howling rush of the void – is pure Floyd, somewhere between On the Run and Us and Them.
Both bands came from comfortably middle-class backgrounds and fell in love with Black music
It doesn't stop there. The synth line that snakes into RAM's Beyond is a celestial cousin to the flickering trails of the portable modular synth EMS Synthi A on On the Run; Motherboard has a totally cosmic break down, which mirrors Dark Side's distinctive sense of astral abandonment and Contact's use of proggy, orchestral synths and mysterious Nasa samples feels very much in line with Floyd's disjointed spoken-word vocals. RAM's songs are sad, pondering works, unsure of their place in the universe, a hair's breadth from the perfectly measured desperation of Pink Floyd's leisurely masterpiece.
But what about RAM's other seven songs – the upbeat, disco- and collaborator-heavy numbers that made up the bulk of the album's promotional weight? Disco barely existed back in 1972, when Pink Floyd were recording Dark Side, so it is no surprise that this band of uptight Cambridge bluesmen took nothing of its influence. (Or not yet, anyway: 1979's Another Brick in the Wall has a distinct disco flavour.) But, as with Dark Side's Money, RAM songs such as Get Lucky and Lose Yourself to Dance proved that Daft Punk could place radio-friendly pop cuts alongside darker, dreamier album moments. And in both cases it worked: Money and Get Lucky were vast hits, titanic flashes of pop songwriting that live parallel to the contemplative albums from which they came.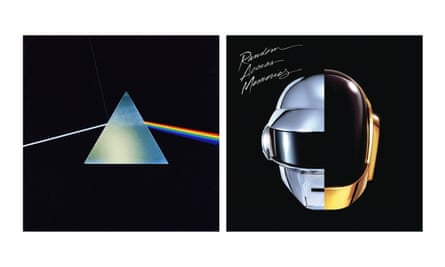 There are connections, too, in how the two albums were made. Dark Side was recorded in around 60 days between May 1972 and February 1973, a leisurely pace for the music industry of the early 70s, using the grandiose surroundings of Abbey Road studios. RAM's recording took place from 2008 to 2012 at some of the world's most storied studios including Electric Lady in New York and Capitol Studios in Hollywood. One newly released RAM bonus track even documents that process: The Writing of Fragments of Time is a recording of Daft Punk and Todd Edwards in the studio as they write the song (over a loop), a meta recording of the recording.
Both bands had come off the back of soundtrack projects that would influence their later albums: Obscured By Clouds for Pink Floyd and Tron: Legacy for Daft Punk, an album that convinced the French duo to work with live instrumentation. It is no coincidence that both RAM and Dark Side sound absolutely sparkling, the work of top musicians in the best studio spaces. If you wanted to test out a stereo back in 1973, you might take Dark Side to your local electronics store; in 2023, RAM is the perfect album to investigate the obsessive standards of ultra-hi-fi home listening. (There's a new digital Dolby Sound version to accompany the reissue.)
Similarities exist between 2013 Daft Punk and 1973 Pink Floyd, too. Both bands came from comfortably middle-class backgrounds and fell in love with Black music – the blues for Pink Floyd; house and techno for Daft Punk – moving from early copycatting (Pink Floyd's 1965 recordings, Daft Punk's Homework) to highly individualistic takes on their respective genres as their record-making evolved. By the time they released Dark Side and RAM, both bands were hugely popular in Europe and respected in the US without having made a proper transatlantic chart breakthrough.
With this in mind, Dark Side and RAM were accorded vast promotional campaigns by the bands' record labels, with RAM's promotional splurge partly modelled on the grandiose album campaigns of the 1970s. And it paid off. Money and Get Lucky gave each band their first US hit single and the two albums topped the Billboard chart. In keeping with the albums' distinctly cosmic vibes, we should mention that both bands made great use of pyramids, too: Daft Punk toured the world in one, while Pink Floyd put a pyramid on Dark Side's iconic cover. Coincidence? Not if you have smoked as much dope as Pink Floyd's 1970s audience …
Perhaps the most important factor that unites The Dark Side of the Moon and Random Access Memories is that both albums reward intense repeat listening, maturing and gentling over time like stone sculptures left to gather moss. In 2063, it would be no surprise to see a 50th anniversary edition of RAM hit the implant music services as we eagerly await the nuclear fusion-powered Dark Side centenary of 2073. It's plenty of time to allow the slow inhalation of these unlikely musical twins to continue.