Psych-pop utopians Elephant 6: 'Our plan was to humiliate the corporate rock industry' | Indie
'We were building a universe that was lo-fi, personalised and highly experimental," says Robert Schneider of Elephant 6, a self-sufficient neo-psychedelic music scene that ruled 1990s Athens, Georgia. "We worshipped Brian Wilson, Brian Eno and Yoko Ono. We mashed-up psychedelia and pop and punk and experimentalism. And we had each other to buoy us, so we didn't need the rest of the world's approval."
Nevertheless, as chronicled by the excellent new documentary The Elephant 6 Recording Co, this fiercely independent, uncompromising community eventually won audiences across the world, siring a generational masterpiece along the way: Neutral Milk Hotel's 1998 album In the Aeroplane Over the Sea.
The scene's ringleaders – Jeff Mangum, Schneider, Will Cullen Hart and Bill Doss – met in junior high school in Ruston, Louisiana, and began swapping music they had made on their four-track tape-recorders. "The Beatles had made Sgt Peppers with just four tracks, and that blew our minds," says Hart.
I had no doubt I could make music of Beatles quality on a domestic tape-recorder
"I had no doubt I could make music of Beatles quality on a domestic tape-recorder," adds Schneider, who sketched out complex formulae to maximise the potential of the primitive technology. "I'm a nerd, I love that stuff," he says grinning.
In 1992, Mangum, Hart and Doss relocated to Athens, Georgia. A college town full of affordable, huge old houses offering perfect accommodation for bands, the city "was a safe place if you were an outsider, or a weirdo, or queer, or a musician", says Lance Bangs, an Athens-resident film-maker who had directed videos for REM and Sonic Youth, and became a key archivist of the snowballing Elephant 6 collective.
Mangum, Hart and Doss formed Synthetic Flying Machine, an early vehicle for their riot of seemingly divergent influences. "Jeff and I really loved noise," says Hart. "I'd record him turning on a blender, revving a lawnmower, switching taps on and off." Doss, more interested in melody and formal experimentalists such as Terry Riley, soon left with Hart to form the Olivia Tremor Control, while Mangum started Neutral Milk Hotel. (The friends continued to play in each other's groups, however.) Over in Denver, Colorado, Schneider set up his Pet Sounds Studio in an abandoned building and formed the Apples In Stereo, to make music he wanted to sound "like Heroes & Villains by the Beach Boys, Syd Barrett-era Pink Floyd, Pavement and Black Sabbath". He adds: "Our plan was to humiliate the corporate rock industry."
This energy magnetised like-minded local artists, film-makers, zine-writers and musicians who all operated under the moniker Elephant 6, an imaginary record label the original quartet had scrawled on the cassettes they would send each other. The scene – which also included the Minders, Of Montreal, Julian Koster's the Music Tapes, Elf Power and many more – was utopian in ambition: they collaborated, supported each other's endeavours and threw potluck dinners to ensure none of them went hungry. "Their songs grew richer and more colourful, the more people were involved," says Bangs. "They realised that doing this together was more fun than doing it alone."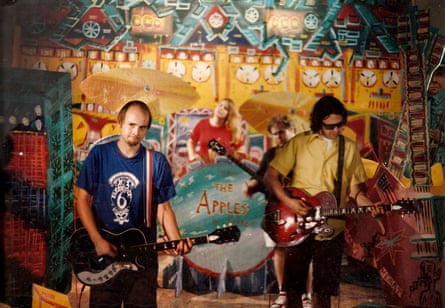 The Olivia Tremor Control's 1996 debut album Music from the Unrealized Film Script: Dusk at Cubist Castle was the first Elephant 6 release to win mainstream notice. An ambitious 75-minute epic featuring contributions from Schneider, Mangum and Kostner, it featured a fearless blend of experimental recordings and wonky pop expressing the scene's sincere love for psychedelic music and the psychedelic experience itself. "I took LSD quite a lot, around 200 times," says Hart. "It helped me hear other dimensions in the music."
But it was Mangum who would record Elephant 6's signature opus – with a little help from his friends, of course. In the Aeroplane Over the Sea, the second album by Neutral Milk Hotel, fused Mangum's avant-garde impulses with droning folk songs that Bangs describes as possessing "an Astral Weeks-esque internal turmoil". It is a dreamlike suite of fuzzed-up folk, Appalachian mountain song and horn-driven laments tracing a narrative inspired by The Diary of Anne Frank. At Pet Sounds, Schneider arranged the songs for an idiosyncratic orchestra of singing saws, trombones, accordions and distorted bass. "All I wanted was for Jeff to be happy and have a magical record," Schneider says. "He was my roommate, and every morning I'd nudge him gently and say: 'Wake up. We're going to make a classic record.'"
And they did. Receiving modest acclaim on release, Aeroplane's unforgettable carnival-folk sound and surreal, emotional power soon built an impassioned cult following. But success weighed heavily on Mangum. "Once his greatness was recognised, needy people started knocking at his door, saying he was the only person who understood their trauma," says Bangs, who was Mangum's friend and housemate during the era. Mangum had a breakdown, split up Neutral Milk Hotel and spent much of the next decade in seclusion. He later re-formed the band for a handful of tours, before putting them back on hiatus in 2015. "Jeff's focused on visual art now, which he may share with the public in the future," says Bangs of the scene's Salinger-esque reluctant figurehead. "He's doing well."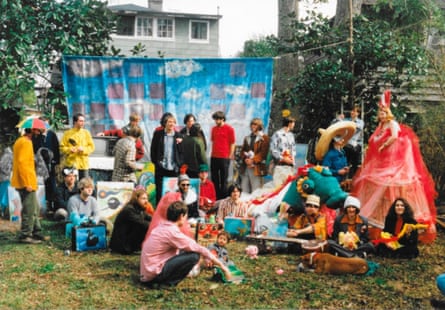 The Olivia Tremor Control ran aground following their darker, acid-tipped second album, 1999's Black Foliage. Hart was struggling with then-undiagnosed multiple sclerosis. "I stopped answering the door and picking up the telephone. I just cut people off. The MS just destroyed me. I couldn't record all day like I used to. I experience these buzzing sensations in my limbs that won't stop. Drinking helped, at first. But soon it was a bottle of vodka a day. I realised I'd die if I didn't stop."
Hart and Doss had renewed their friendship before the Olivia Tremor Control reunited for the 2005 All Tomorrow's Parties festival. Further shows followed, and in 2009 they began leisurely work on a third OTC album. Schneider, who had ended the Apples in Stereo after seven albums to pursue a PhD in mathematics, signed up to help make it. But in 2012, Doss died suddenly of an aneurysm, a "devastating loss" that Bangs says the Athens community is still struggling to recover from. Hart went into the studio to work on Doss's unfinished tracks. "Pretty soon, though, I realised I couldn't keep doing this. I needed to let it go."
The great thing about art is, it outlives you. The magic they'd spent their lives trying to capture, it's on that tape
That's where the story seemed to have ended, until film-maker Chad Stockfleth returned to Athens to continue his work on his Elephant 6 documentary. The film is the product of 13 years of work, a "quixotic" process during which he sought out and won the trust of many key figures within the scene, as well as celebrity fans including Elijah Wood.
"The great thing about art is it outlives you," Stockfleth says. "The magic they'd spent their lives trying to capture, it's still on that tape. They can still access Bill [Doss]." The Elephant 6 Recording Co features much unseen footage of Elephant 6 events over the years, including performances by the Dixie Blood Mustache – a 12-piece all-female orchestra who would perform avant-garde soundscapes on kitchen utensils – along with early performances by all the key bands.
Stockfleth also called upon Bangs' archives. "Early on, I made the decision to film Jeff every chance I got," Bangs says, and his recording of Mangum performing solo acoustic embryonic versions of the Aeroplane songs in the back room of an Athens coffee shop yielded the 2001 album Live at Jittery Joe'. "I'd send friends like Michael Stipe and Elliott Smith tapes of Jeff performing, just wanting to spread the word about his talent."
"What Chad did was heroic," says Schneider. "After Bill's death, we were all an emotional mess. I'd lost any motivation to make music. But Chad's camera was like a therapist. He restarted our enthusiasm for finishing the third Olivia Tremor Control album."
Work also began again on Doss's unfinished tracks, and the familiar process of collaboration and tape-swapping enabled the healing to begin. "Our friendship had been founded on this," says Schneider, "so it felt very natural to hear Bill's voice in my headphones again and slip back into that feeling of when he was alive. I understood how the Beatles must have felt when they recorded Free as a Bird, to honour the friend they'd lost. That's what I want to do for Bill."
The process has been slow, and Schneider guesses it will be some years before the project is complete. He is in no hurry, however. "I and the rest of the band will work the rest of our lives finishing his songs," he says, "because it revives the life of our friend."