Ron DeSantis Has Bizarre New Challenge For Trump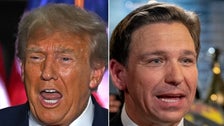 Florida Gov. Ron DeSantis is offering to deliver a boot to his own head if Donald Trump will join him and the other Republican presidential contenders on the debate stage next week.
"If Donald Trump can summon the balls to show up to the debate, I'll wear a boot on my head," DeSantis told Newsmax's Eric Bolling after weeks of speculation that he wears lifts in his boots to appear taller.
DeSantis also said it's "a time for substance."
Shortly afterward, DeSantis national spokesperson Carly Atchison got a little ballsy on social media with a less-than-substantive challenge to members of the Trump campaign.
"ATTN: Team Trump 'men,' if you ever decide to man up, you and your boss can buy a pair of balls here," she wrote on X, formerly Twitter, and linked to a site where you can purchase golf balls with DeSantis' name on them.
Two of Trump's campaign team members tagged by Atchison quickly fired back.
"Ron DeSantis is so broke he needs to sell his balls to strangers in order make rent and keep the lights on," wrote Steven Cheung.
"So the desantis team finally admits that trump has desantis' balls in a box," replied Alex Bruesewitz. "Acceptance is an important step!"
Trump amplified the claims about DeSantis' footwear last month by posting images on his Truth Social website of the Florida governor's boots.


Shared From Source link Breaking News