Russia-Ukraine war live: more than 100 soldiers returned to Kyiv in prisoner exchange | Ukraine
116 soldiers returned to Ukraine in prisoner exchange, says Kyiv
The head of Volodymyr Zelenskiy's office, Andriy Yermak, has said that Ukraine has got 116 soldiers back as part of a prisoner of war swap.
Earlier on Saturday, Russia said it had got 63 PoWs back in an exchange.
Yermak posted a video of soldiers on a bus, along with them posing with flags in the snow outside. He said they were "defenders of Mariupol, Kherson partisans [and] snipers from Bakhmut vicinities".
Key events
'Significant accident' at Odesa power substation causes emergency electricity shutdown
Ukraine has introduced emergency energy shutdowns in Odesa after a "technological accident" at a high-voltage electricity substation, which has previously been damaged by Russian attacks.
The prime minister, Denys Shmyhal, said on his Telegram page: "The situation is complex, the scale of the accident is significant, it is impossible to quickly restore power supply, in particular to critical infrastructure."
Outages had been reported earlier on Saturday.
Shmyhal said they were working to revive "critical infrastructure", especially as Ukraine is in the middle of a cold snap that means heating is crucial. A special council has ordered generators to be brought to the area, and a gas turbine given by the US will be taken to the southern city.
Earlier on Saturday, the Nexta news agency published footage that purports to show the Usatovo substation on fire.
The bodies of two British volunteers who were killed in Ukraine have been returned by Russia as part of the prisoner swap on Saturday.
The exchange has returned 116 Ukrainian PoWs and sent back 63 Russians.
The bodies of Christopher Parry, 28, and Andrew Bagshaw, 48, have been given back by Vladimir Putin's forces, the Sun reports.
They had disappeared on 6 January near Soledar, eastern Bakhmut, while trying to evacuate civilians.
The number of Russian soldiers around the southern city of Mariupol has increased by about 10,000 to 15,000, according to an adviser to the city's mayor.
Petro Andriushchenko wrote on Telegram that it means the total amount of troops is now about 30,000. They are stationed in villages in the district.
He added that some bomb-damaged areas were being cleared to build new homes.
Ukrainian author Andrey Kurkov, who wrote Death and the Penguin, has written an opinion piece for the Guardian about hope for Ukrainians amid the blackouts during the war against Russia.
Ukraine has entered 2023 as if going into a dark room where it is impossible to turn on the light. It seems that there are windows, but there is darkness behind them too. We must wait for the dawn or the restoration of the power supply. While there is neither one nor the other, darkness provokes a feeling of deep fatigue.

The Lviv University teacher and well-known Ukrainian poet Galina Kruk has noticed an unsettling pattern in her life – during a blackout, the power banks and batteries that feed her torches and lamps stop working about half an hour before the electricity comes back on. Then there is pitch darkness, which seems even thicker than when the lights first went out – that "early" darkness with which it was still possible to somehow cope.

These half-hour periods of impenetrable darkness, during which a person feels completely helpless, are the most difficult, both psychologically and physically. The time stretches to infinity – space shrinks and becomes terribly cramped. You feel acute hunger and a desire for sleep. Your muscles lose strength and physical movements require energy that is no longer there. For Galina, this state repeats itself every day and already she dreads these half hours without light.

In complete darkness, without additional sources of energy, a person indeed becomes defenceless. You might have a candle, but it gives just enough light to see your fear in the mirror, your inner condition written on your face, welling up in your eyes. After all, electricity allows communication with relatives and friends and the surrounding world in general. It is impossible to communicate with the help of a candle, except to send a signal from the window – "I am alive!"
Portugal to send Leopard 2 tanks to Ukraine
Portugal has become the latest country to say it will send Leopard 2 tanks to Ukraine, Prime Minister António Costa said on Saturday.
Costa said Portugal was in talks with Germany to obtain parts needed for the repair of unusable Leopard tanks in Portugal's armed forces. He did not say how many would be sent.
"We are currently working to be able to dispense some of our tanks," Costa told Lusa news agency during a trip to the Central African Republic. "I know how many tanks will be [sent to Ukraine] but that will be announced at the appropriate time."
Costa's office did not immediately reply to a request for comment.
Admiral António Silva Ribeiro, the head of the Portuguese armed forces, said last month Portugal had 37 Leopard 2 tanks but it has been widely reported by local media that most are inoperable.
116 soldiers returned to Ukraine in prisoner exchange, says Kyiv
The head of Volodymyr Zelenskiy's office, Andriy Yermak, has said that Ukraine has got 116 soldiers back as part of a prisoner of war swap.
Earlier on Saturday, Russia said it had got 63 PoWs back in an exchange.
Yermak posted a video of soldiers on a bus, along with them posing with flags in the snow outside. He said they were "defenders of Mariupol, Kherson partisans [and] snipers from Bakhmut vicinities".
Former Russian president Dmitry Medvedev has said that the sending of more arms to Ukraine will only encourage more attacks from Russia.
"All of Ukraine that remains under Kyiv's rule will burn," journalist Nadana Fridrikhson quoted him as saying in a written interview with her, Reuters reports.
Fridrikhson asked Medvedev, who as deputy chairman of the security council has become one of Russia's most hawkish pro-war figures since its invasion of Ukraine, whether the use of longer-range weapons may force Russia to negotiate with Kyiv.
"The result will be just the opposite," Medvedev replied, in comments that Fridrikhson posted on her Telegram channel.
"Only moral freaks, of which there are enough both in the White House and in the Capitol, can argue like that."
The Pentagon said on Friday that a new rocket that would double Ukraine's strike range was included in a $2.175bn US military aid package.
With the first anniversary of the invasion approaching on 24 February, Russian forces have been on the back foot for the last eight months, and do not fully control any of the four Ukrainian provinces that Moscow has unilaterally declared part of Russia.
Asked what would happen if the weapons that Washington has promised Ukraine were to strike Crimea – which Russia seized from Ukraine in 2014 – or deep into Russia, Medvedev said Putin had addressed the matter clearly.
"We don't set ourselves any limits and, depending on the nature of the threats, we're ready to use all types of weapons. In accordance with our doctrinal documents, including the fundamentals of nuclear deterrence," he said. "I can assure you that the answer will be quick, tough and convincing."
Russia's nuclear doctrine allows for a nuclear strike after "aggression against the Russian Federation with conventional weapons when the very existence of the state is threatened".
Putin more wary of some US presidents than others, says Mike Pompeo
Former US secretary of state Mike Pompeo has said that Vladimir Putin would not have invaded Ukraine if Donald Trump was still president.
In an interview with BBC Radio 4's Today programme on Saturday morning, the former senior figure under Trump compared the current buildup of tensions between the US and China to that of the US and Russia before the invasion of Ukraine.
"We know how to deter our adversaries. Frankly, the Trump administration did it. Vladimir Putin did not invade Europe or Ukraine on our watch.
"This is an unprovoked attack on Europe by Vladimir Putin. He is solely responsible for that. But these things don't happen in a vacuum. Adversaries make decisions about when, Vladimir Putin has always wanted greater Russia. He will go to his grave wanting greater Russia," he said.
The former head of the CIA is mulling over running to become US president at the next election. He was on Today promoting his new book, Never Give An Inch: Fighting for the America I Love.
He added: "Here's some facts, Vladimir Putin took a fifth of Ukraine under President Obama in 2014. For four years he didn't take an inch of Ukraine, he fought along the Donbas, but he didn't invade. Then when we left he went after it again. That's indisputable, those are factual statements. You can argue coincidence or luck, but Vladimir Putin didn't change. His intentions didn't change. What changed was his perception of risk, and it is different with different leaders."
More than 130,000 Russian soldiers have been killed in battle since their invasion, according to Ukrainian statistics.
They say another 720 were killed on Friday, bringing the total to 130,590. Ukrainian forces took out another six armoured personnel vehicles, three tanks and three anti-aircraft systems.
The figures, published by the general staff of the armed forces of Ukraine, have not been independently verified, and Russian statistics differ.
Another group of Russian prisoners of war have been released, according to news agencies.
A total of 63 were released after negotiations with Ukraine were mediated by the United Arab Emirates, Reuters reports. They include "sensitive category" people, it added.
US allows seized Russian assets to go to Ukraine – reports
The United States attorney general, Merrick Garland, has authorised the country to begin using seized Russian money to aid Ukraine, according to US media.
Garland's announcement came during a meeting with the Ukrainian prosecutor general, Andriy Kostin, in Washington, Agence France-Presse reported.
"Today, I am announcing that I have authorised the first-ever transfer of forfeited Russian assets for use in Ukraine," Garland said, according to CNN.
The money would come from assets confiscated from Russian oligarch Konstantin Malofeyev after his April indictment for alleged sanctions evasions, he added.
The money would go to the state department "to support the people of Ukraine", CNN reported Garland as saying.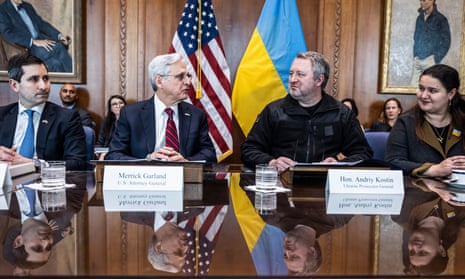 Kostin welcomed the move, which he said would see $5.4m (£4.5m) of confiscated assets go towards "rebuilding Ukraine".
"Delighted to see the new legislation aimed at seizing the Russian oligarchs' illicit assets in action," Kostin tweeted, along with a picture of himself and Garland during the meeting.
All Ukrainians have, in one way or another, suffered from this war. It's our obligation to ensure the Ukrainian people receive compensation for all the tremendous damage done.
Russian millionaire Malofeyev is considered one of the main sources of funding for pro-Russian separatists in eastern Ukraine.
In April, the US Treasury blacklisted a network of about 40 individuals and entities led by Malofeyev which it alleged were used to facilitate sanctions evasion.
There has been no let-up in fighting in Bakhmut, the front line of a continuing battle between Ukrainian and Russian forces.
Throughout Friday morning Agence France-Presse journalists heard a steady exchange of small-arms fire and the pounding of mortar shells to and from Russian positions, the agency reported.
Pete Reed, a US humanitarian medic, was killed in the eastern Ukraine city when his evacuation vehicle was hit by a missile, according to Global Outreach Doctors, with whom he was working.
Reed was a former US Marine Corps rifleman who also worked as a paramedic, according to the organisation's founder, Andrew Lustig.
Several other people were reportedly hurt in the strike.
A local man, Oleksandr Tkachenko, 65, said it was "clear" that the car, which was destroyed, was not a military target.
Residents trying to rescue the occupants had also come under attack, he added.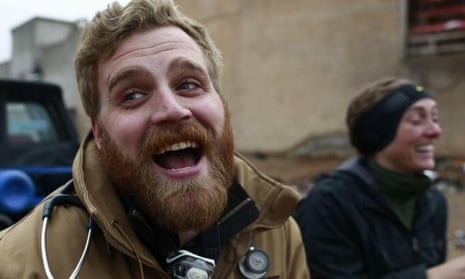 The international criminal court has launched its own investigation into alleged crimes against humanity and war crimes committed in Ukraine days after Russia's invasion in February, but it does not have jurisdiction to prosecute aggression in Ukraine.
The European Commission chief, Ursula von der Leyen, who is visiting Kyiv, said on Thursday that an international centre for the prosecution of the crime of aggression in Ukraine would be set up in The Hague, Reuters reported.
Moscow rejects the war crimes allegations.
Germany has war crimes evidence in 'three-digit range', says prosecutor
Germany has collected evidence of war crimes in Ukraine, the country's prosecutor general said in a newspaper interview published on Saturday, adding that he saw a need for a judicial process at international level.
"Currently, for example, we are focusing on the mass killings in Bucha or attacks against Ukrainian civilian infrastructure," Peter Frank told the Welt am Sonntag newspaper.
So far, prosecutors had pieces of evidence in the "three-digit range", he added, without elaborating.
Reuters also reported that Ukraine and its western allies have accused Russian forces of committing atrocities in Bucha, a satellite town of Kyiv, soon after launching their invasion last February. Moscow has denied the charge. Russia has also targeted key infrastructure in Ukraine but denies deliberately targeting civilians.
Germany began collecting evidence in March 2022 to prosecute possible war crimes, including by interviewing Ukrainian refugees and evaluating publicly available information, Frank said, adding that German prosecutors were not yet investigating specific individuals.
We are preparing ourselves for a possible later court case – be it with us in Germany, be it with our foreign partners, be it before an international court.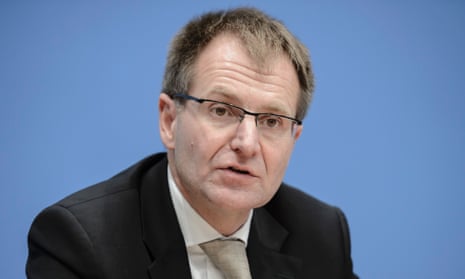 Asked who should be tried, Frank said Russian state leaders and those implementing decisions at the highest military level should be held accountable.
Ukraine is pushing for the creation of a special tribunal to prosecute Russian military and political leaders it holds responsible for starting the war.
Hello and welcome back to the Guardian's ongoing live coverage of Russia's war in Ukraine – this is Adam Fulton.
Germany has collected evidence of war crimes in Ukraine, the German prosecutor general says, and the pieces of evidence are in the "three-digit range".
Peter Frank told the Welt am Sonntag newspaper that he saw a need for a judicial process at an international level.
"Currently, for example, we are focusing on the mass killings in Bucha or attacks against Ukrainian civilian infrastructure," he said in an interview published on Saturday.
More on that story soon.
The United States, meanwhile, has announced a new $2.2bn (£1.8bn) military aid package for Ukraine that Washington says includes precision-guided rockets and Hawk air defence firing units. It also includes, for the first time, a rocket-powered ground launched small diameter bomb that is said to double Ukraine's strike range and enable its military to strike deep behind the frontlines of the war.
In other developments as it turns 9am in Kyiv:
Volodymyr Zelenskiy has said Ukraine will continue to fight for Bakhmut as long as it can, vowing that "nobody will give away" the eastern "fortress" city. Speaking at a press conference following a summit in Kyiv with European Union leaders Ursula von der Leyen and Charles Michel, Ukraine's president said the country would be able to begin to liberate occupied Donbas if weapons supplies were "quickened, specifically long-range weapons".

EU leaders offered strong support for Ukraine but set "no rigid timelines" for its accession to the bloc. Zelenskiy had hoped the EU would put Ukraine on a rapid track to membership, but western EU member states are concerned that Kyiv's expectations on speedy membership talks are unrealistic.

Air raid sirens twice sounded across Ukraine on Friday as Zelenskiy hosted the EU leaders in Kyiv. The first air alert in Kyiv was on Friday morning. The second, hours later, followed a joint news conference involving Zelenskiy, von der Leyen and Charles Michel. There were no immediate reports of any Russian airstrikes on Kyiv throughout the day.

EU member countries have agreed on a European Commission proposal to set price caps on Russian oil products, the Swedish presidency of the EU said. Ambassadors of the 27 EU states agreed at a meeting on Friday to impose a $100-a-barrel cap on premium products such as diesel and a $45 cap on low-end products, according to diplomats. The price cap comes into effect on Sunday, as does the EU's ban on Russian oil product imports.

The EU has promised that a tenth package of sanctions against Russia will be in place by 24 February, the first anniversary of the war. The EC president, Ursula von der Leyen, said the package would cover trade worth €10bn (£8.9bn/$10.8bn) and "hit the trade and technology that supports [Russia's] war against Ukraine".

An American medic has been killed while working on the frontlines in Ukraine, just weeks after arriving in the country. Pete Reed, 34, was killed on Thursday while he was helping evacuate civilians when his vehicle was reportedly hit by a missile in Bakhmut.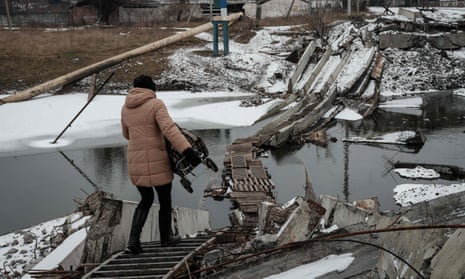 France and Italy have finalised technical talks for the joint delivery of the Samp/T air defence system to Ukraine this spring, the French defence ministry has announced. It comes after Italy's foreign minister, Antonio Tajani, said on Thursday that the system would be operational in Ukraine "within seven to eight weeks". The system can track dozens of targets and intercept 10 at once. It is the only European-made system that can intercept ballistic missiles.

The EU will launch a humanitarian de-mining programme in Ukraine worth €25m, the bloc's foreign policy chief, Josep Borrell, has confirmed, saying de-mining was "crucial to save the lives of civilian population".

New tanks supplied by Nato allies will serve as an "iron fist" in a counteroffensive by Kyiv to break through Russian defensive lines, Ukraine's defence minister, Oleksii Reznikov, has said. Western supplies of 155-mm artillery would be vital for Ukraine to deter Russian attacks in the south and in the east, Reznikov said at a joint news conference with his Polish counterpart, Mariusz Błaszczak.

Germany has approved the export of older Leopard 1 battle tanks, which would add to the raft of fighting vehicles Berlin promised last week. A spokesperson said Olaf Scholz's government had granted an export licence for the German-made tanks first produced in the 1960s and replaced within Germany's own military by Leopard 2 tanks in 2003.


Shared From Source link Breaking News