Senator Cory Booker Wants To Change Prison Labor Conditions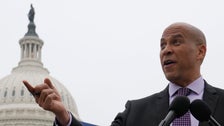 Sen. Cory Booker (D-N.J.) introduced a package of bills Thursday to address unfair labor practices in America's prison system. The legislation, which is carved into four packages, addresses workplace discrimination, safety and health in prisons, job opportunities for inmates, and fair pay.
"The Thirteenth Amendment abolished slavery 'except as a punishment for crime,' but this language has enabled and expanded the exploitation of incarcerated people in our country's prisons," Booker said in a statement.
The Correctional Facilities Occupational Safety and Health Act would require state and local government-run correctional facilities to regard incarcerated workers as employees and to file regular reports on workplace and labor safety, as well as require the Federal Bureau of Prisons to implement safety and health programs and file annual reports on them.
Additionally, it would create a grant program so state and local governments could adjust their health and safety plans to cover incarcerated workers.
Other parts of the legislation would key in on bettering educational opportunities and jobs in U.S. prisons to help incarcerated individuals transition into society once they are released from serving their time.
The Ensuring Work Opportunities in Correctional Facilities Act would provide $210 million from 2024 to 2029 for job training and educational programs in the Bureau of Prisons.
The number of programs in the Prison Industry Enhancement Certification Program would increase from 50 to 100, allowing more incarcerated individuals to gain private sector and professional job training for opportunities to earn better wages.
Booker's package also addresses issues of workplace discrimination and would remove "refusing to work" from the list of inmate behaviors that the Bureau of Prisons could use to justify sanctions such as disciplinary segregation, monetary fines, loss of earned time, and delayed parole.
Correctional facilities would also be required to comply with the Americans with Disabilities Act of 1990 and the Rehabilitation Act.
The package of legislation follows Booker's previous efforts on criminal justice reform, such as sponsoring the Next Step Act in 2019 and co-sponsoring the First Step Act in 2018, which became law.
The new legislation is endorsed by multiple groups including the American Civil Liberties Union, the Brennan Center for Justice, and the Leadership Conference on Civil and Human Rights.
"Because fair labor standards are virtually nonexistent in U.S. prisons, incarcerated people are often compelled to work in abusive and unsafe conditions. They work for little to no pay, on average making between 13 and 52 cents per hour in most jobs," Booker said. "The current state of prison labor in America is inhumane and unacceptable."


Shared From Source link Breaking News