Seth Meyers Says Courtroom Artist Absolutely 'Nailed' 1 Part Of Trump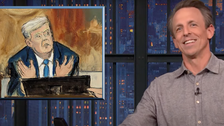 Seth Meyers on Wednesday mocked the courtroom sketches that have been drawn of Donald Trump during his civil fraud trial in New York.
The "Late Night" comedian said he was "just shocked" that the former president hadn't tried to use some of the sketch artist's work in his defense.
"I'll admit, it doesn't look a ton like Trump until you widen out and see the hands," said Meyers. "They nailed the hands."
Former Trump White House press secretary Kayleigh McEnany recently slammed the depictions of her former boss as a "travesty."
On Monday, Trump was prohibited from reading a document that he produced from his jacket during testimony and claimed would clear his name.
Watch Meyers' full monologue here:


Shared From Source link Breaking News