Stephen Colbert Exposes George Santos' Weirdest Lie Yet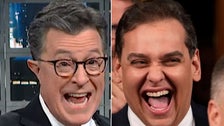 Stephen Colbert said that of all the lies told by Rep. George Santos (R-N.Y.), there's one that stands out because of just how strange it is.
Santos, the lawmaker caught in so many lies that he's facing multiple investigations and growing calls to resign, once claimed to have produced the Broadway musical "Spider-Man: Turn Off The Dark."
Colbert said it's "obviously" a lie.
"But it's also a really weird one, because 'Spider-Man: Turn Off The Dark' is famously one of the biggest disasters in Broadway history," Colbert pointed out. "Santos is basically saying, 'You know that show everyone made fun of where the actors kept falling on the audience that lost $60 million? That was me."
And that's not the only bizarre new twist in the Santos saga.
Colbert had more in his Monday night monologue:


Shared From Source link Breaking News