The cuddling cowboys ride again! Saddle up for the Brokeback Mountain musical | Theatre
The tent in the corner of the rehearsal room is an off-white, bare-bones affair that scarcely looks robust enough to withstand a draught, let alone the howling wind on a Wyoming mountainside. But this, to quote MTV Cribs, is where the magic happens. The sheep-herders Ennis Del Mar and Jack Twist snuggle up together here against the cold, their comradeship flaring into desire. So begins a love affair that will dominate their lives over the next few decades even as they go their separate ways and marry women.
Brokeback Mountain has already cantered from page (Annie Proulx's 1997 short story) to screen (Ang Lee's Oscar-winning 2005 film). Now it arrives on stage, adapted by Ashley Robinson and featuring Lucas Hedges, the grave young star of Manchester By the Sea, who steps into the late Heath Ledger's cowboy boots as Ennis. Playing Jack, the role originated by Jake Gyllenhaal, is Mike Faist, who was wiry and electrified as Riff in Steven Spielberg's recent West Side Story.
Annie Proulx wishes she had never written the story – because of all the deluded fan fiction it inspired
Robinson, an easy-going South Carolina native, takes a seat in front of a wall covered with stark monochrome images of the Wyoming landscape, which serve as a helpful reminder of the play's brutally isolated setting. Joining him are the director Jonathan Butterell and the composer Dan Gillespie Sells, collaborators from the razzle-dazzle musical Everybody's Talking About Jamie, who are quick to stress that Ennis and Jack won't be belting out any showstoppers. "Can you imagine?" says Butterell with horror.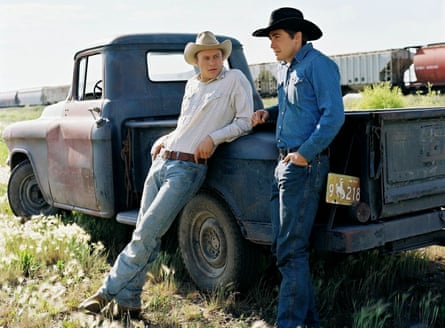 Why not? "A song lets the audience into an internal dialogue," explains Sells. "But these guys don't have that. They're stuck. There'd be no way of writing that libretto. What we can do is bring you the poetry of Annie Proulx. Ang Lee did that in the film with cinematography. Here we do it through music."
A country balladeer, played by the flame-haired Eddi Reader of Fairground Attraction, will perform on stage during the show, accompanied by a five-strong band. The 13 original songs that Sells has written will, he says, "speak to the action without narrating it. They evoke a world." Music was a central part of Robinson's vision when he began writing the play six years ago. "I was trying to figure out how to capture the inner landscape of Ennis, who really doesn't say a lot," he tells me. "Music has the ability to communicate the passage of time and the magnitude of space, providing a strong juxtaposition with the sparse rough language of the characters."
Those words were in the pitch he made to Proulx, who can be a tricky customer. Now 87, she told the Paris Review nine years ago that she wished she'd never written Brokeback Mountain because of all the deluded fan fiction it inspired. But within a few hours of receiving Robinson's proposal, she assented. "It's yours," she told him. "Go."
The result is no facsimile of the film. Entering the auditorium, theatregoers will see a sixtysomething man asleep on stage – this is the older Ennis, who is present throughout as he gazes back at his younger self. "It's essentially a memory play," says Butterell. "It's about the deep regret that Ennis still holds on to. People often say Brokeback Mountain is a love story. I don't think it is. It's a story of fear, and how it corrupts love." He is singing from the same hymn sheet as Diana Ossana, who co-wrote the film with Larry McMurtry and said in 2006 that it concerned "two obviously gay people too afraid to actually commit to their love, so they run off and marry women and live a life unfulfilled out of fear."
But the director isn't keen on that "gay" tag. "I have no gay agenda," he says. "I want the play to be universal. I don't want it to feel niche." Surely he isn't arguing that the characters aren't gay? "It's not my job to assert anyone's identity. Ennis could be a straight man going through a complex negotiation of his sexuality." Sells agrees: "Of course, it's about two men who fall in love and have sex. But there's also nuance. That's why we're reluctant to go, 'Oh it's a queer story.'"
All of which comes straight from the Hollywood playbook of selling LGBTQ+ product. Think of the poster for the Aids drama Longtime Companion ("A motion picture for everyone") or the trailer for Torch Song Trilogy ("It's not just about some people – it's about everyone") or Tom Ford plugging his film A Single Man ("It's not a gay story"). Robinson has written a sensitive adaptation, and the team are justified in wanting their work to be widely seen. They shouldn't be surprised, though, if queer audiences tire of such disavowals, and begin to wonder why the mountainous subject of sexuality keeps being reduced to a molehill.


Shared From Source link Entertainment