'The most fun!' Paul Simon unveils collaboration with The Boy, the Mole, the Fox and the Horse illustrator | Paul Simon
The singer-songwriter Paul Simon and artist Charlie Mackesy, known for the bestselling book The Boy, the Mole, the Fox and the Horse, have unveiled the fruits of a remote collaboration – and have hinted at further work together.
Seven Psalms, the exhibition at Frieze art fair's London gallery No 9 Cork Street, features drawings produced by Mackesy while listening to Simon's 2023 album of the same name. At the exhibition launch, in discussion with Simon, Mackesy explained how the collaboration came together.
"Paul said: 'I'd be interested to hear or see how you respond' [to the songs] rather than 'This is what I'm looking for'," he said. "Which was lovely and very freeing. I didn't feel in any way pressurised to produce, because there was no diktat or brief. I would just put the album on a continuous loop, make some tea, take the dog out and think about which lines stayed with me. Then I'd see images."
Simon, 81, spoke at length about the album that inspired the images, which received a five-star review in the Observer alongside generally widespread praise. He said it was partly informed by the refugee crisis, citing the song Trail of Volcanoes, which tracks his journey to the UK where he lived for a time in the mid-1960s. "Then I started thinking about refugees. I was specifically thinking about the southern border of the United States, with how many people are coming from Central and South America. But there are refugees everywhere."
The singer-songwriter explained that the word "refugee" then occurs "purposely" in another song on the album, The Sacred Harp. "Two hitchhikers are picked up by two people, who I think of as me and my wife, Edie," he said. "We pick up a woman and her child – her son – and part of their story is that they're refugees, of sorts, from her home town."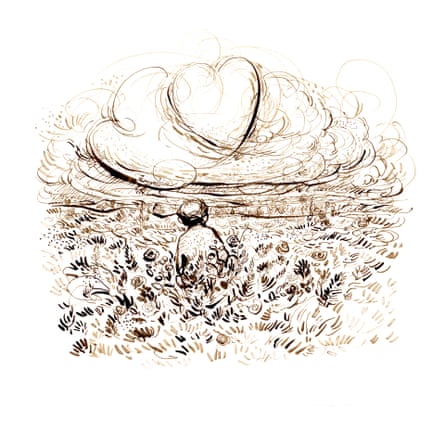 Simon also spoke about how he found the Covid pandemic "hugely beneficial" as a songwriter, and how songs had been coming to him in dreams or during the middle of the night.
"Being isolated was good for discipline and good for practice," he explained. "Having nothing to do with the big wide world for several months was really enjoyable; the demands ceased or reduced considerably. I was playing a lot of guitar and discovering new things about my playing. It was more complex than I had been playing in the last 20 years or more, because in that period I was collaborating with other guitarists to hopefully enhance what they were playing. But [during lockdown] it was just up to me to figure things out and get my imagination on the fingerboard."
Simon explained that and ideas for the album came to him as he slept. "The title came to me in a dream that was strong enough to wake me from my sleep and write it down. Looking over my career, my cycle of creativity is pretty constant and comes about every three years. I suppose you could say if it comes to me in a dream that's pretty special, but it's just my brain working."
Having nothing to do with the big wide world for several months was really enjoyable. I was playing a lot of guitar
Simon said that lockdowns meant ideas came in the night more frequently than previously in his career. "I had a period of several months where three or four times a week, between three and five in the morning, I'd get ideas and have to get up to write them down. I'd think: 'Oh that's a good line. Could I do a second verse?' As soon as I said that everything stopped, but then I'd see if the words fit rhythmically with anything I'd written. They have to, like a swimmer goes with waves. Then you hear them with the music." However, he also said that after the first year of lockdowns, his experiences changed. "I became restless and really needed interaction with people."
Simon explained that he'd been moved to approach Mackesy after he had seen the film adaptation of Mackesy's book, The Boy, the Mole, the Fox and the Horse, which won a Bafta for British animated short. "I was like, 'Wow, this is a powerful thing.'" They may well collaborate again, with Simon publicly telling Mackesy, "I've written one song since Seven Psalms and I could send it to you, Charlie, and we could begin again. It's the most fun way of working."
Simon retired from touring in 2018, but still has a range of projects on the go; as well as the Mackesy exhibition, he is promoting In Restless Dreams: The Music of Paul Simon, a three-and-a-half-hour documentary by Alex Gibney which explores the making of Seven Psalms and looks back on his long career.
At an event at the Toronto film festival this week, Simon spoke about recent hearing loss in his left ear, saying: "I haven't accepted it entirely, but I'm beginning to."