Three things with Anthony Burke: 'It was lost forever in the demolition' | Australian lifestyle
Revitalising some of the country's treasured old buildings is a tough but thrilling task – as Restoration Australia proves. The show's latest season, available now on ABC iview, covers makeovers to a crumbling church, a former Tasmanian orphanage and a Castlecrag home designed by Walter Burley Griffin.
Travelling around the country to visit the enthusiasts who take on these ambitious projects is architecture professor turned TV host Anthony Burke. The Sydneysider, who has been in the business of buildings for two decades, carries one item with him everywhere: a little red sketchbook. Here, Burke tells about that analogue tool, as well as the story of two other important belongings.
What I'd save from my house in a fire
Maybellene, my surfboard. She was a gift from my wife, Kylie, when I turned 30. Maybellene got her name from the old Chuck Berry song – the kind of music I remember my dad really loving when I was little. Dad had died a few years earlier, so the name seemed a fitting tribute.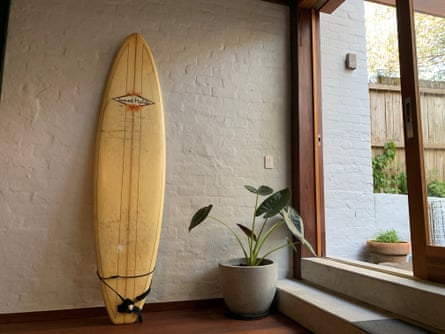 Maybellene has been with me for a long time now. When I was living in Berkeley, we surfed California – Big Sur and Bolinas, which makes me sound like a hot surfer when I'm really not! But she's most happy at North Avalon in Sydney.
My first ride out with her, the surf was massive. I can remember Kylie laughing as she watched from the beach while I got pounded over and over. I didn't catch a single wave. But Maybellene has been faithful and still puts a smile on my face every summer. I think she is the other woman in my life.
My most useful object
My little sketchbook. The cliche is that architects always have a sketchbook at hand, just in case inspiration hits. But a sketchbook is more like a security blanket and a portable thinking space that can be brought out at any moment.
I learned to carry a sketchbook in my university days and used it to draw design ideas. But now, it's everything: notes, lists, shopping, doodles, strategy, my next TV show ideas, explainers for students who don't believe what I'm saying or just can't visualise it.
I've kept every sketchbook I've ever used and have boxes of them now in the house. Yes, only I can read the actual writing, but it's a habit and a part of the "thinking" me. I designed my last home addition in my A5, over pages of ideas. I used to only get black covers but lately I've really turned a corner and am breaking out with reds.
The item I most regret losing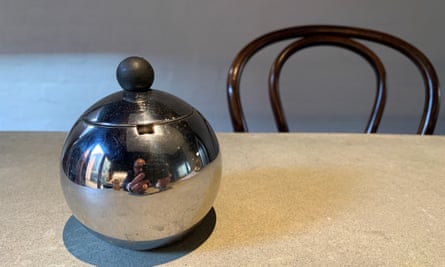 Travelling in New Zealand about 10 years ago with the family, we came across a small junk shop. In it I found a sugar and milk service set – two spherical stainless-steel vessels, similar in size to tennis balls. One is for milk, the other for sugar. I fell for them instantly and bought them for the very reasonable price of NZ$40.
The pair stayed with us through three moves and more family meals than I can count – until about five years ago, when the milk jug fell off the shelf and disappeared down the back of the cooktop. The stove was a cranky thing, not to be moved, so that little silver ball was trapped. I knew that when it came time to renovate, I could rescue the little bugger. But when the time did come, the builders got to it first and the milk jug was lost forever in the demolition.
It's not a big loss, but more like a thousand little losses that I'm reminded of each morning when I make my coffee. I try to be Buddhist about it, and now see it as a parable on accepting absence and loss. But I have to admit its impact in my life has been massively disproportionate to its size.