'We feel welcome now': Brazilians of all kinds hail Lula as he takes office | Brazil
The Brazilian drag queen Salete Campari came to toast her country's new era dressed as Marilyn Monroe.
"I feel fabulously happy," said the activist and performer as she posed for selfies outside Brazil's presidential palace while waiting for the country's incoming president, Luiz Inácio Lula da Silva, to arrive.
"Now Brazil's LGBTQIA+ community can feel free because we have a president who respects diversity. It's so important. Everyone is welcome now," said Campari.
"No one was welcome under that man," she added of Lula's proudly prejudiced predecessor, Jair Bolsonaro, whose political demise has provided a long-awaited moment of redemption for the country's marginalised minorities, as well as its black majority.
During Bolsonaro's four-year reign, the presidential palace was occupied by a predominantly white, male assembly of politicians and military officials, many of whom were unabashed about their disregard for Indigenous and traditional black communities, favela residents and members of Brazil's civil rights movement.
"The minority must bow to the majority," Bolsonaro once declared.
But as Lula, 77, arrived to take office on Sunday, the stunning marble ramp into the palace was encircled by a melange of citizens representing one of the world's most socially and racially diverse nations.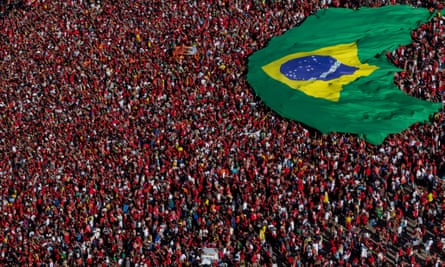 "I saw trans men and women, transvestites, drag queens, disabled people … there were pastors, priests and Afro-Brazilian religious leaders," said the black favela activist Rene Silva, who was among the crowd.
"I saw the Brazil that I know. We could see ourselves," Silva added. "I felt at home."
Bolsonaro boycotted the ceremony, having flown to the US on the eve of the inauguration, allowing Lula to use the symbolic passing of the presidential sash to emphasise his desire to build an inclusive and tolerant nation.
Many spectators, including Silva, wept as the new president strode up the ramp flanked by eight representatives of Brazilian diversity and struggle, including the revered Indigenous leader Raoni Metuktire, a disabled influencer and a metalworker. The sash was handed to Lula by the black rubbish collector and activist Aline Sousa.
"This is a historic moment," said Douglas Belchior, a civil rights leader from the Black Coalition for Rights group who was there.
Lula has injected a similar diversity into his new administration in a bid to bring all of Brazil's 215 million people back into the fold after minorities were airbrushed out of Bolsonaro's tumultuous era.
"I will govern for all, looking forwards towards our bright shared future rather than into a rear-view mirror of division and intolerance," Lula told tens of thousands of supporters who gathered to hear him speak.
One of Brazil's most celebrated black intellectuals, Silvio Almeida, will lead Lula's human rights ministry, replacing the radical evangelical preacher Damares Alves.
The favela-born human rights activist Anielle Franco will lead the ministry for racial equality. And the Indigenous activist and politician Sônia Guajajara will lead Brazil's first-ever ministry for Indigenous people.
Speaking on the eve of Lula's inauguration, Guajajara told supporters Brazil was entering a new era in which "the resistance" would occupy the corridors of power.
"We are here today because we were never afraid to fight. We never gave up," Guajajara said, to loud cheers. "We are here to say that never again will there be a Brazil without us."


Shared From Source link Entertainment