'Why don't we know more of her? It's upsetting': dance genius Bronislava Nijinska | Dance
'I was told that British audiences don't really like experimental work, like they do in Germany or Switzerland," says American choreographer Andrea Miller. "Which makes me really nervous. I'm more on the expressionist weirdo side."
Miller, 41, is making her first work for a major British ballet company, a new version of Stravinsky's Les Noces, originally choreographed a century ago by Bronislava Nijinska. "If I remember this correctly, Nijinska's Les Noces did really well in Paris and then failed in London. So, there's a precedent," she grimaces.
In the vast production studio at the English National Ballet HQ in east London, the dancers are getting their bodies around some of that expressionist weirdo movement. In dramatic darkness, they move in a choreography of contrasts: grace and bluntness, decisive shapes and loose bodies, natural and unnatural. It's a change from the classical ballet at ENB's core, for sure. Miller's language is one of "tension and emotions" rather than codified steps and positions.
"It's figuring out, if I had the flame of rage in me, how would it change my skin and my bones? How would it change my texture, and how would I move with that?" She doesn't use the mirrors in the studio, trying to get the dancers to work from the inside out. The dancers are up for it, she says, but it's a long process, when your body's programmed to find a perfect arabesque. "We just need time for them to give themselves permission to look in ways that are not pre-approved."
Bronislava Nijinska, who made the original Les Noces in 1923, doesn't seem like a woman who asked for approval. The fame of Vaslav Nijinsky, legendary dancer with the Ballets Russes, has overshadowed that of his sister, Bronislava, but she was a genius too. Born in Minsk in 1891, she choreographed about 80 original ballets, including Les Biches and Le Train Bleu, both made in 1924 and set among the bright young things of 1920s Paris (the latter had costumes by Coco Chanel). Les Noces was an entirely different mood, a Russian peasant wedding, portraying an arranged marriage as a bleakly unhappy binding.
It is a strikingly modern, feminist, constructivist masterpiece. Nijinska arranged bodies in geometric, architectural tableaux and then pounded the rhythms of the score with the dancers en masse in flat-footed folk phrases. Stravinsky conceived the score around the same time as The Rite of Spring, and it is similarly powerful: fierce, strange, haunting, fuelled by driving, complex rhythms. Originally scored for four pianos, percussion and voices, ENB's version will be for full orchestra and on-stage choir.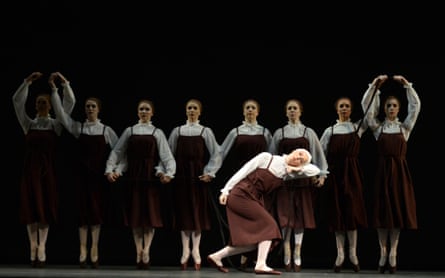 When Miller was asked to create a new version of Les Noces to mark the work's centenary, she'd never seen it danced live (only on film) because it is rarely performed. "Nijinska's a genius, why don't we know more of her?" Miller asks. "It's disappointing because she's such a hero. And she clearly had such a vision and was able to communicate it. That she couldn't get the kind of recognition that she should have is upsetting."
Les Noces is known in Britain because the founder choreographer of the Royal Ballet, Frederick Ashton, had been mentored by Nijinska in Paris in the late 1920s, and was determined her works should be seen. Monica Mason, a principal dancer with the Royal Ballet in the 1960s and 70s (and later its artistic director) spoke recently of an ageing Nijinska coming to London to teach the company, with a loudly crackling hearing aid and little English, only demonstrating with her arms. She worked the dancers tirelessly, with no thought for breaks (and they were all too afraid to ask). Mason revealed that Nijinska's husband kept a small notebook in his pocket and if someone displeased Nijinska their name would be written in the book.
The dancers were in awe of her, and the work, and although Miller is right about Les Noces getting a hostile response in the press when it first came to London in 1926, the Royal Ballet's revival in 1966 was a huge hit. By then audiences were ready for Nijinska's groundbreaking modernity, just as they shouldn't have any problem with Miller's more experimental tendencies now.
Miller, a former dancer with Batsheva Dance Company in Tel Aviv who now runs her own company in Brooklyn, started her own training steeped in the dance world of the early 20th century. She was taught in Connecticut in a class of three by the teacher Ernestine Stodelle, an eminent former dancer with modern dance pioneer Doris Humphrey (a contemporary of Martha Graham). Stodelle was in her 80s by the time she taught Miller, who never danced anything by a living choreographer until she went to study at the Juilliard School in New York. "I went from living in 1930 to 2000 in one second." Miller likes thinking about her dance in universal terms, not defined by eras – "a basic thing we can all communicate with" – but she likes the way this project has brought her closer to her dancing roots.
It's hard to know how to approach remaking a masterpiece. Stravinsky envisaged the piece as a wedding celebration, peopled by dancing peasants, but Nijinska disagreed, seeing a young woman given away to another family as a "tragedy", as demonstrated in her grave response. Even if Stravinsky imagined a happy gathering, that's not the music he wrote for it. "There's something really terrifying about the music," says Miller, who couldn't get on board with the wedding theme either. "In the States at the time there was a lot going on about abortion rights and women's rights in general and the wedding story started to feel very political. It felt like something still cerebral and not physical." Miller works from the gut, rather than the brain. But in the end she has tackled many of the same themes as Nijinska, an idea of ritual and sacrifice, and the traditions we uphold supposedly for the good of the community, to cohere society.
Miller's piece is a kind of sequel to The Rite of Spring, set after the community has sacrificed a young woman, now questioning the value of their brutal ritual. "Would they stay together as a community if their tradition fell apart?" There's disagreement, of course – a charismatic leader, a dissenting voice – and therein lies the dramatic tension. The setting is ambiguous, ancient but timeless, much like its questions: "Are these things that look like tradition in fact implements of power?"
Creating Les Noces has been different to Miller's usual process. She's never made a story ballet before, she never picks her music before making any movement and she was nervous about a score that comes with so much baggage – "Not bad baggage!" she's quick to point out. Stravinsky's music for Les Noces is more complicated than the famously fiendish Rite of Spring, she thinks. "Rite of Spring has longer melodic lines and sections, this one changes every two seconds. It's brilliant, amazing music, but it's definitely outside the world I usually create in."
In the production studio, the set is in place: on one side steps rise that look like crumbling stone, or cooled lava that has bubbled and oozed; hanging above the stage is a sculpture that brings to mind a meteoroid jumbled with space junk. They're the work of sculptor Phyllida Barlow, who died in March this year, while still involved with the project.
Miller cherishes the time they had working together. "I found it really beautiful to see how joyful she was about this project," she says. "She had loads of work on her plate, and I think she just genuinely loved performance and dance and she came in so sparkly about it." The steps, like an ancient amphitheatre, came with the idea of someone being thrown to the lions, and originally they were going to have the choir standing on it, like Greek gods looking down "watching the humans toil in their mess". Barlow was very engaged in the whole process. "She had a lot of things to say about the choreography," says Miller. "Nothing judgmental, but I was working with some fabric and she said, 'It's too flowy, that should be felt.' And we used felt and it was perfect. Or she said, 'That dancer's really getting it,' and it was a dancer I wasn't really looking at and she was right, so I started featuring her."
Having female collaborators was valuable to Miller (the costumes are by Marie Cantenys and Margaux Lalanne). "No one wants to be siloed, or only known as a "female choreographer", she says. "But it's definitely part of my identity, it's an important part of the collaboration for me. And it's a special thing, because we're still very far behind. In my four years at Julliard I never danced a work by a woman," she says. The prominence of female choreographers has changed a lot in the last 20 years, but delving into Les Noces has given Miller a new appreciation of one of the greats of the 20th century.


Shared From Source link Entertainment