Woman Shoots Terminally Ill Husband Dead In Florida Hospital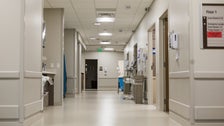 DAYTONA BEACH, Fla. (AP) — A woman who fatally shot her terminally ill husband inside a Florida hospital was taken into custody over the weekend after SWAT team members used a nonlethal explosive device to distract her and then tried to use a stun gun on her, authorities said Monday.
However, the Taser gun failed to subdue 76-year-old Ellen Gilland, and she fired a shot into the ceiling of her husband's room inside AdventHealth Hospital before dropping the handgun and being taken into custody after a four-hour standoff, according to a police report from the Daytona Beach Police Department.
According to police, Gilland told officers that her 77-year-old husband, Jerry Gilland, had been ill for some time and they had planned the shooting together.
Ellen Gilland now faces charges of premeditated first-degree murder and two counts of aggressive assault with a deadly weapon with intent to kill, stemming from when she pointed her gun at staff members who had entered the hospital room after hearing a gunshot, according to the police report.
She remained in jail on no bond on Monday, and her court-appointed public defender didn't respond to an email inquiry.


Shared From Source link Breaking News