Barney The Dinosaur's Glow Up Is Causing A Stir On Twitter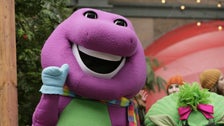 Even Barney the dinosaur is getting sucked into the entertainment industry's beauty standards.
Toy company Mattel announced Monday its relaunch of the Barney franchise, touting a "comprehensive revitalization" of the purple dinosaur's brand across TV, film and YouTube content as well as with children's toys, books, clothing and more.
The friendly dinosaur became a household name during his time on American TV screens. The "Barney & Friends" show aired on PBS from 1992 until 2010.
The new Barney will make his debut in 2024. Unlike the original, he will be animated ― so no more actor dressing up in a chunky purple dinosaur suit.
"Barney's message of love and kindness has stood the test of time," Mattel executive Josh Silverman said in a press release. "We will tap into the nostalgia of the generations who grew up with Barney, now parents themselves, and introduce the iconic purple dinosaur to a new generation of kids and families around the world across content, products, and experiences."
What didn't stand the test of time, though, was Barney's look, which some social media users felt had been… enhanced. Though the T. rex's appearance changed from time to time over his years on TV, the new Barney proved controversial.
Here's what the peanut gallery had to say:


Shared From Source link Breaking News