Biden Torches Fox News, Tucker Carlson At White House Correspondents' Dinner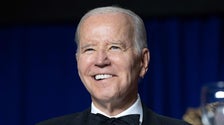 President Joe Biden didn't hold back his swipes at Fox News and its recently-"finished" host Tucker Carlson during a White House Correspondents' Association dinner speech on Saturday.
The president made several sharp quips into his remarks about a number of Republicans – including Rep. Marjorie Taylor Greene (R-Ga.), Florida Gov. Ron DeSantis and House Speaker Kevin McCarthy (R-Calif.) – as he also found time to take aim at Carlson just days after his surprise firing at the network.
"The truth is, we really have a record to be proud of: vaccinated the nation, transformed the economy, earned historic legislative victories and midterm results. But the job isn't finished, I mean, it is finished for Tucker Carlson," Biden said as the D.C. crowd gasped.
"What are you ooo'ing about like that. Like you think that's not reasonable? Give me a break."
Biden later roasted Fox News personalities and the network's recent $787.5 million defamation lawsuit settlement with Dominion Voting Systems, a settlement that included a statement from Fox on its "commitment to the highest journalistic standards."
"It's great that cable news networks are here tonight, MSNBC owned by NBCUniversal, Fox News owned by Dominion Voting Systems," he said.
"Last year, your favorite Fox News reporters were able to attend because they were fully vaccinated and boosted. This year, with that $787.5 million settlement, they're here because they couldn't say no to a free meal. And hell, I'd call Fox honest, fair and truthful. But then I could be sued for defamation."
The president, elsewhere in his remarks, claimed that it's "simply not true" if someone thinks he doesn't like Fox founder Rupert Murdoch before stacking himself up against the multi-billionaire.
"How could I dislike a guy who makes me look like Harry Styles? Call me old? I call it being seasoned. You say I'm ancient, I say I'm wise," said Biden as he made a nod to concerns about his age.
The evening was headlined by "The Daily Show" correspondent Roy Wood Jr., who poked fun at politics in Washington and members of the media including Carlson.
You can watch more clips from Biden's roast at the White House Correspondents' Association dinner below.


Shared From Source link Breaking News