Esther Manito: 'I still stand backstage thinking I should have worked in John Lewis' | Stage
How did you get into comedy?
I was on maternity leave from teaching, at home with a newborn and a two-year-old, and felt like I was going a bit mad. A friend suggested we do a standup course at the Comedy School in Camden. I thought it would allow me a few hours a week to get my creative brain working. At the end of the course we were expected to do five minutes of standup at Backyard Comedy Club. At the start I had zero intention of doing it and planned to phone in sick, but I did it and that was that – I was hooked.
Can you recall your first gig?
I threw up with adrenaline and the nerves have still not gone away. I mean I don't puke before every gig any more so in that sense I have grown, but I still stand backstage panicking thinking: "I should have worked in John Lewis!" I'm slightly obsessed with the John Lewis cafe, hence it being my go-to "panic job".
Who do you remember looking up to when you were first starting out?
I really looked up to Ahmed Ahmed as he was one of the first comics I ever saw who talked about his Arab heritage; it was the first time I related to a comic. I also really looked up to Shaparak Khorsandi, Jen Brister and Jess Fostekew as they would all have brilliant takes on life that I could totally relate to. I am very fortunate that I have now worked with them all and Jess directed my new show.
Tell us about a gig that was so bad, it's now funny
It was at a fete and craft fair. I was just given a mic and people would slow down and stare at me as they passed, like maybe I had just decided to try and recruit people to a cult, then, still confused, they'd move on. That was a low moment.
Best heckle?
I was doing a gig in Luton and I was telling a joke about my boy being cast as a camel in the school nativity and a lad shouted "bet he got the hump!" and, albeit cheesy, the timing really tickled me.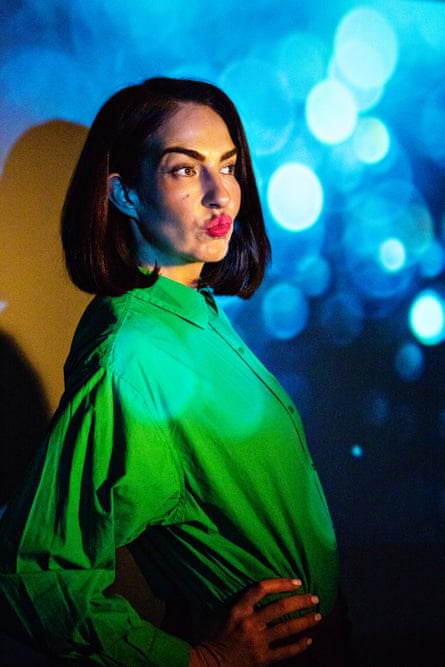 What's your new show, Hell Hath No Fury, about?
How to be a lovely lady who keeps her opinions to herself and tries not to make a fuss. Can you imagine? No, it's about all those things that drive you insane as a woman and why anger should be embraced and accepted instead of pushed down. In my show there are so many things I talk about driving me crazy: cushions, the night tube, perimenopause, and coat racks.
Any pre-show rituals?
One beer and a Google of John Lewis vacancies.
Best advice you've ever been given?
In comedy? That would be never to try to please everyone. Some will like you, some won't but you're there for those who do like and enjoy you. In life? Put on whatever clothes you like and don't look down, just trust you look fine.
Worst advice you've ever been given?
"You shouldn't pursue comedy because you have two small kids, and you won't be able to do both." I heard this kind of thing a lot when I was starting out. I was always asked who had my kids, whether they were OK with me out, how my husband felt … I ask male comics with kids if they felt judged or had their ability to parent questioned. They do not. Clearly the assumption was that a mum is home with their children so all is as it should be. It made me want to talk even more about the inequality of domestic family life. Somehow me going to work in a field I enjoy should be harnessed with guilt because I'm leaving my kids of an evening with … their dad! I do, however, also explore how much dads are patronised, like why is my husband called "good" for looking after the kids when I work, but I'm not "good" for looking after the kids when he works?
Any bugbears from the world of comedy?
Well, anything when it is a job will have highs and lows, even if you worked at John Lewis! My main bugbear is not having all the TV and radio jobs. I would like all of those please.
Any heroes?
Gina Yashere. I started watching her before I ever thought about doing standup and everything about her screamed "legend". Gina has real confidence on stage and such likability, you feel like you're listening to a mate tell you a story. I love it. The way Gina would talk about her family, in particular her mum, really resonated with me.


Shared From Source link Entertainment