Rhode Island Special Election Puts Progressives' Power To The Test
In a state where congressional openings are rare and Democratic primaries are typically decisive, a special primary election in Rhode Island on Tuesday pits a staunch progressive against three rivals who would break new demographic ground in Congress.
The primary is to fill the seat formerly held by former Rep. David Cicilline, an ardent proponent of antitrust reform. Cicilline had represented Rhode Island's 1st Congressional District, encompassing the eastern half of the state, since 2011 before resigning in June to take a job leading a statewide nonprofit.
Now there are no fewer than 11 Democrats competing to succeed him in a safe Democratic seat that includes Newport, Bristol, Pawtucket, Woonsocket and a significant chunk of Providence, the state's capital and largest city.
There are four main contenders: Lt. Gov. Sabina Matos; former state Rep. Aaron Regunberg; state Sen. Sandra Cano; and Gabe Amo, a former official in the Biden and Obama administrations.
For much of the election, internal polls showed a close race between Regunberg, the progressive favorite, and Matos, an establishment darling with significant outside support. (There have been no public polls.)
But Amo released a poll last week showing him hot on Regunberg's heels, with Matos and Cano far behind him. Many observers now believe the race is a four-way toss-up with a narrow advantage for Regunberg, a 33-year-old climate attorney who was clerking for a federal judge before mounting his bid for Congress.
"The way the race is talked about here, whether it's Sabina or Sandra, a woman of color finally gets representation in Rhode Island's delegation."

– Robert Walsh, Rhode Island political analyst
The race will once again test the left's ability to elect one of its own to Congress. Regunberg, a supporter of Vermont Sen. Bernie Sanders' presidential bids, is backed by many progressive state lawmakers, the Congressional Progressive Caucus and left-wing groups like the Working Families Party. Sanders held a raucous rally for Regunberg in Providence on Sunday.
"We just don't need another Democratic vote in Congress," Sanders told the crowd of about 650 people. "We need people who have the guts to take on powerful special interests and fight for the working class of this country, and Aaron will be one of those people."
Cano, Amo and Matos are progressive by national standards, but in their positions — and their relationships with traditional institutions — they are closer to the ideological median of the House Democratic Caucus.
At the same time, a victory for any of the three would mark an identity milestone: The first non-white person elected to Congress in Rhode Island, a state historically represented by politicians from white ethnic strongholds. Cano would also be the first-ever woman of Colombian descent in Congress. And Matos, an immigrant from the Dominican Republic, would be the first Afro-Latina in Congress.
"If Aaron wins this thing, progressives have carried the day in the election," said Robert Walsh, a Democratic analyst in Rhode Island who previously ran one of the state's teachers unions. "But the way the race is talked about here, whether it's Sabina or Sandra, a woman of color finally gets representation in Rhode Island's delegation."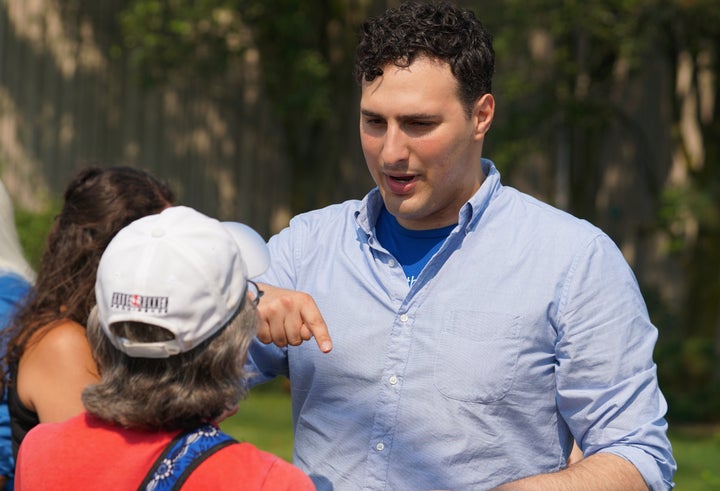 A Progressive In The Biden Era
At a time when the Democratic establishment has shifted closer to the activist left and the number of conservative Democrats obstructing the party's priorities has dwindled dramatically, it is not as clear as it once was what distinguishes the most progressive members of Congress from more moderate Democrats.
Many progressives have also tempered their expectations. With health care policy on the back burner, even Regunberg is calling for "expanding Medicare," rather than campaigning on Medicare for All, the policy that was once a litmus test for insurgent left candidates. (He still supports achieving the policy over the long term.)
And of course, Biden has pleasantly surprised the left by passing a landmark climate action bill, empowering Medicare to negotiate lower prescription drug prices, and trying, at least, to cancel student debt.
"Democrats have accomplished more during this term than arguably we have since the New Deal," Regunberg told HuffPost. "And FDR came in with some really strong majorities that Biden didn't have."
If elected, Regunberg would be an ally to the "Squad," though he said he would not be a member of the left-wing bloc. He cites Reps. Cicilline, an antitrust crusader, and Jamie Raskin (D-Md.) as models of effective progressive lawmaking. Given his interest in expanding the Supreme Court and experience suing fossil fuel companies, Regunberg hopes to join either the Judiciary Committee or the Energy and Commerce Committee.
"The role of progressives in Congress should be to push the Democratic Party to be the best version of itself that it can be."

– Former state Rep. Aaron Regunberg (D)
"The role of progressives in Congress should be to push the Democratic Party to be the best version of itself that it can be," Regunberg said.
Regunberg has credibility with the left wing of the Democratic base because he played a crucial role in passing progressive policies during his state legislative tenure. From 2015 to 2018 — before progressive state legislative candidates' electoral breakthrough in 2020 — Regunberg shepherded the passage of laws ensuring workers paid sick leave, raising the state's tip minimum wage, creating a commission to study the use of solitary confinement, enacting online voter registration, and enabling households with solar panels to connect to the electric grid and receive compensation for surplus energy they generate.
"We need someone who is going to be vocal, who can cross party lines, who can advocate for communities, and not just go along to get along," said state Rep. Leonela Felix (D), who shares a Pawtucket constituency with Cano but is backing Regunberg.
Regunberg ran unsuccessfully for lieutenant governor in 2018, but he made sure to endorse many of the progressive upstarts who swept into power in 2020, including Felix.
Felix, who is Dominican-American, had no qualms about backing Regunberg over two Latina candidates.
"Beyond identity politics, which is something that I've never liked to do, it's a matter of values and a matter of action," Felix told HuffPost. "I don't see the other candidates being as strong advocates for the issues I care about."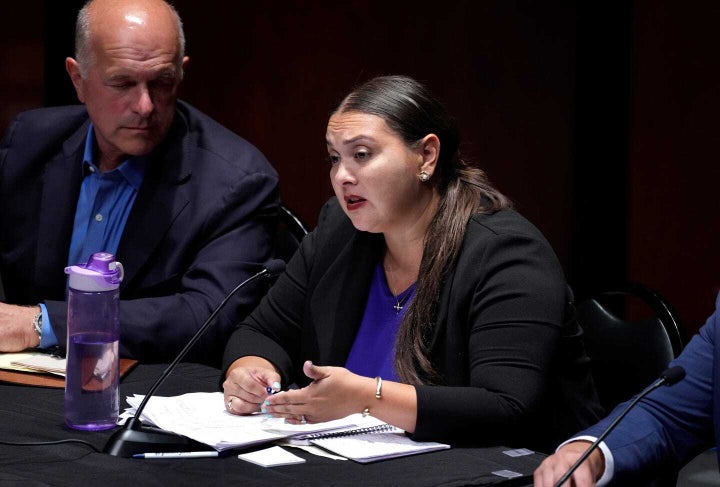 Cano is also running on a progressive platform of boosting worker wages, expanding access to education, banning assault weapons and fighting for immigrant rights. An asylum recipient who arrived in Rhode Island at age 16 after her father was kidnapped by guerrilla fighters, Cano touts her success passing a bill in June that gave undocumented immigrants the ability to obtain driver's licenses. And as chair of the state Senate Education Committee, she became a staunch ally of the state's teachers unions, both of which are now backing her bid.
"I'm very proud of my progressive values," Cano told HuffPost.
Cano even said she supports the full cancellation of student debt and that "we should get to Medicare for All" eventually.
At the same time, she took pains to emphasize her pragmatism, which she implicitly suggested is a point of contrast with Regunberg.
"We need to ensure that we have a representative in Congress that really gets things done for Rhode Island," Cano said. "It is important that we start building relationships, and even when we disagree on policy, we're able to get relationships done to get infrastructure dollars for Rhode Island."
"We need to ensure that we have a representative in Congress that really gets things done for Rhode Island."

– State Sen. Sandra Cano (D)
Although Cano has more endorsements from state lawmakers than any of her opponents, she has struggled to raise enough money to compete with her rivals. Super PACs affiliated with the Congressional Hispanic Caucus, Elect Democratic Women and EMILY's List, a group that backs pro-choice Democratic women, are instead spending on behalf of Matos, who appears to be faltering in the final weeks of the race.
"EMILY's List really fucked up," said a Rhode Island progressive strategist who requested anonymity to speak freely. "If they had put a million bucks behind Sandra, she'd be the front-runner right now."
EMILY's List stood by its decision to back Matos in a statement to HuffPost.
"Rhode Islanders know they can trust Lt. Gov. Sabina Matos to fight for our access to reproductive health care, protect our children from gun violence, and lower the cost of housing," said Danni Wang, a spokesperson for EMILY's List. "EMILY's List is proud to support Sabina's campaign for Congress because she will build upon her excellent record of public service and delivering for her community."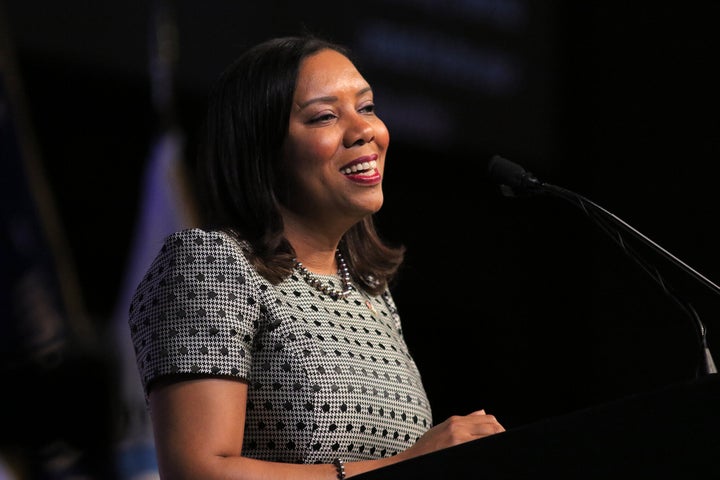 Selling The Person
Matos and Amo, by contrast, have focused their campaigns more on their biographies, arguing they are better qualified to stand up to former President Donald Trump's MAGA movement.
Matos, in particular, has trodden an unusual path to statewide political office. She arrived in the U.S. as a young woman, found work on the assembly line in a Providence jewelry factory, learned English and got involved in local politics, landing a seat on the city council in 2011. She became council president in 2019 before being appointed lieutenant governor in 2021 by Democratic Gov. Dan McKee. (McKee, the previous lieutenant governor, had ascended to the top spot after then-Gov. Gina Raimondo took office as Biden's commerce secretary.)
Matos recounted that story in one of her TV ads. "The American dream is real, but we have to work hard to protect it from MAGA Republicans who would destroy everything we value," she said over footage of the U.S. Capitol riot on Jan. 6, 2021.
Although Matos has the endorsement of the House Democrats' business-friendly bloc, the New Democrat Coalition, she told HuffPost that she eschews both the "moderate" and the "progressive" labels. She instead describes herself as a "pragmatic Democrat."
"You've got to be adaptable. The skill set needs to meet the moment."

– Gabe Amo, former White House official
But Matos, who released an internal poll in June showing her leading the field, has struggled to overcome a misstep earlier in the campaign. It emerged in mid-July that some of the signatures her campaign collected to qualify for the ballot were fraudulent, leading to an investigation by the state attorney general. Matos only publicly addressed the matter five days after the scandal began making headlines. She has apologized even as she insists that the private vendor her campaign hired to collect signatures deceived her.
"My campaign was defrauded," she told HuffPost. "This person lied to me and to my campaign."
Amo, the son of Ghanaian and Liberian immigrants, relentlessly touts his work for the Biden and Obama administrations. In the White House, Amo, who was deputy director of the Office of Intergovernmental Affairs under Biden, played a key role in coordinating with state and local governments in response to crises, such as hurricanes and COVID-19.
"You've got to be adaptable. The skill set needs to meet the moment," Amo said of his work in the White House. "That sort of versatility is something that we should have from a member of Congress."
An Amo TV spot begins with footage of the Jan. 6 riot and Trump to establish that the "stakes have never been higher" and concludes with photos of Amo with Biden and Obama. "Trusted by President Obama and President Biden – Gabe Amo, the one with experience we need now," the narrator says.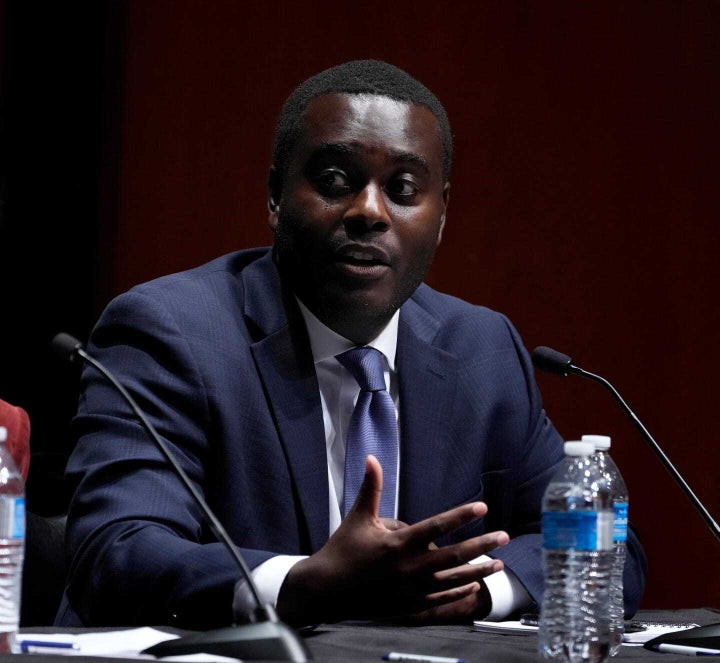 Amo is vaguer than Cano and Regunberg about his policy priorities in Congress: "I would match my policy focus areas to the priorities of the district and the areas where I had experience in the federal government."
Noting that Rhode Island is an aging state, Amo turned to a standard bit of Democratic rhetoric: Protecting Social Security and Medicare.
"I would really double down on all the investments that we need to make into preserving and protecting Social Security and Medicare, making sure that we are investing in access to home and community-based health care services," he said.
The final weeks of the campaign have been a mad scramble for the candidates to try to arrest Regunberg's momentum.
Unlike Regunberg and Cano, neither Amo nor Matos has forsworn donations from corporate PACs. Matos noted that corporate PAC contributions come from the company's employees (though in practice, it is typically from top executives and board members seeking influence with lawmakers).
But Matos has repeatedly attacked Regunberg for getting the support of a super PAC funded by his father-in-law, a finance executive. The group, Progress Rhode Island, has spent nearly $125,000 on direct mail and digital ads for Regunberg.
"One of my opponents right now comes from a wealthy background and is able to set up a family-run super PAC to support their campaign. The voters of Rhode Island need to decide if this is who they want to send to Washington."

– Rhode Island Lt. Gov. Sabina Matos (D)
"One of my opponents right now comes from a wealthy background and is able to set up a family-run super PAC to support their campaign," Matos said. "The voters of Rhode Island need to decide if this is who they want to send to Washington."
Another super PAC affiliated with the Working Families Party has spent $250,000 on TV and digital ads in support of Regunberg's bid. Congressional Progressive Caucus Chair Pramila Jayapal's super PAC also spent $25,000 on digital ads for Regunberg.
The three pro-Regunberg super PACs' total spending is still considerably less than the $800,000 that the super PACS affiliated with the Congressional Hispanic Caucus, EMILY's List and Elect Democratic Women have jointly spent on Matos' behalf.
At the final candidate debate this past Tuesday, Regunberg's rivals ganged up on him for saying that he would have joined progressive lawmakers in voting against the House bill to raise the debt limit in late May. At the time, Regunberg said that he did not want to reward Republican "hostage taking."
His opponents treated that line as irresponsible — a reflection of what they see as his lack of pragmatism.
"I would've voted to stand with Rhode Islanders, not vote against Rhode Islanders," Amo said during the debate. "This is not a time to play politics with people's economic outcomes."
Onstage, Regunberg clarified that he would have voted for the debt ceiling bill if his vote had been required for passage.
"My position is the same position as that of Sen. Elizabeth Warren (D-Mass.), Ed Markey (D-Mass.), John Fetterman (D-Pa.), reps like Katie Porter and Barbara Lee (D-Calif.), folks in leadership like [Rep.] Rosa DeLauro (D-Conn)., and even more moderate reps like Dan Goldman and Adriano Espaillat (D-N.Y.)," he said.


Shared From Source link Breaking News