Texas State Senator Channels Ted Cruz For Halloween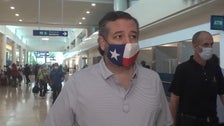 Texas state Sen. Roland Gutierrez (D) dressed up as Ted Cruz for Halloween, mocking the time the Republican lawmaker fled to Cancun, Mexico, during the state's ice storm in 2021.
"I was thinking about the scariest Halloween costume and quickly found one: Senator who flees to Cancun," Gutierrez wrote on X, formerly Twitter.
Cruz famously fled Texas in February 2021 while the Lone Star State froze, causing statewide power outages that killed at least 200 people. After Cruz was caught heading to Cancun, he said in a statement at the time that he and his family had lost power and he was allowing his daughter to take "a trip with friends."
He said, "Wanting to be a good dad, I flew down with them last night and am flying back this afternoon."
Cruz's vacation to Cancun has haunted him ever since. In September 2022, a passenger on a flight with Cruz sarcastically referenced the Cancun trip and then asked him to name a single victim of the Uvalde school shooting. Earlier this year, Cruz joked on X about the trip to Mexico, posting a photo by a sign that reads "Cancun Grill." However, his attempt to make light of the incident didn't go over too well, as X users quickly called Cruz out.
The Texas senator is up for reelection next year, and a few Democrats have announced their plans to run against him, including Gutierrez. Gutierrez has posted on X about Texas's power grid and its power failures.
"We don't have to live like this, but Ted Cruz voted against bills to fix our power grid. It's time we had a Senator who will stand up for Texans instead of playing childish political games," Gutierrez wrote.


Shared From Source link Breaking News