Top 10 books about being poor in America | Books
For all its wealth and devotion to the myth of the American Dream, the US allows many more of its citizens to live in poverty than other wealthy countries do. We hold the 10th highest poverty rate in a 2021 ranking of OECD countries, with almost 38 million Americans living in poverty. Even that number is calculated using an outdated measure that probably doesn't fully account for the number of families that are truly struggling. How is it that a country that prides itself on success and progress can allow so many of its citizens to go without? It's an urgent question we've been writing about – and failing to solve – for a long time.
The books about poverty that resonate most for me come in two forms. Novels and narrative nonfiction books often take a personal, sometimes painfully vivid and honest portrayal of a family or individual in a way that can personalise the potentially abstract issue for readers. My own book, The Forgotten Girls, follows in this tradition. To write it, I returned home to my small, poor town in the Arkansas Ozarks after many years of living in big cities on the east coast to find my childhood best friend: through our reconnection, I explored the ways that the different places we lived marked our adult lives.
The other type, equally important, takes a broad view and explains the history of American poverty as a series of policy and political choices. These take the focus off the individual and, at their best, explain the larger forces that can often shape our lives, whether we know it or not. This list is a blend of the two, the best of each sort of story. Taken together, they illustrate an exceptionally grim truth about US society.
1. The Other America: Poverty in the United States by Michael Harrington
First published in 1962, this book took a broad, structural view of how poverty persisted in the US despite the boom years after the second world war which launched many into a growing middle class. Harrington explored factories, farms, and mountain shacks to show how so many were left behind. Within a few years, President Lyndon B Johnson would begin rolling out his Great Society agenda to combat the destitution Harrington wrote about.
2. Caste: The Origins of Our Discontents by Isabel Wilkerson
This masterpiece about the US's racial stratification is an essential book about the country's poverty. It explains how the US was founded explicitly as a racist system designed to keep the descendants of slaves on the bottom of the social and economic hierarchy, and all of the ways this caste system is perpetuated.
3. Evicted: Poverty and Profit in the American City by Matthew Desmond
Desmond's work on families being thrown out in the poor neighbourhoods of Milwaukee was the first glimpse many of us had at all the ways low-income families struggle to keep a roof over their heads. Housing is a basic necessity many families in the US can't count on today because of a system that gives power to landlords and keeps low-income families trapped in a cycle of eviction. A sociologist, Desmond's original research was groundbreaking. As a bonus book, his latest, Poverty, by America, also explains the larger forces that immiserate so many in the US.
4. Dying of Whiteness: How the Politics of Racial Resentment Is Killing America's Heartland by Jonathan M Metzl
A psychiatrist at Vanderbilt University in Nashville, Tennessee, Metzl explains how and why many poor whites support the politicians who promise to cut the programmes that might help them while persisting in those that hurt them. Ranging from gun violence to a lack of universal health care, it is the real story about the people voting against their own interests.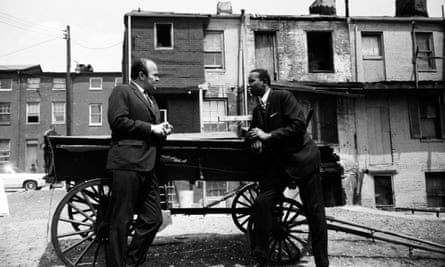 5. The Sum of Us: What Racism Costs Everyone and How We Can Prosper Together by Heather McGhee
Similarly, McGhee's story is about how politicians leverage American racism to gain power, and how that hurts everyone. A particularly illustrative story is how towns across the US drained their public swimming pools during the civil rights era rather than integrate them – so white southerners chose to do without these public amenities rather than share them.
6. The Grapes of Wrath by John Steinbeck
This epic novel about the US's Dust Bowl migration shows the ways that the US's early mistakes came to rest on the shoulders of an entire generation of farmers who fled their homes for the promised land of California. It follows the Joad family after they leave their benighted farm in Oklahoma and struggle to earn a living out west. My own grandfather left his farm in Arkansas when he was 13 in the 1930s to work on farms and in a cannery in California before returning home as an adult in the 1950s, so this novel resonates for me personally.
7. A Tree Grows in Brooklyn by Betty Smith
Soaring and beautiful, Smith's classic about an American childhood at the turn of the 20th century has not lost its relevance. The story centres on Francie Nolan, the child of Irish immigrants, and is a vivid portrayal of the immigrant experience in that era of New York City. I read this for the first time only a few years ago, and I wish I'd read it earlier.
8. Random Family: Love, Drugs, Trouble, and Coming of Age by Adrian Nicole LeBlanc
Zoom forward nearly a century, and you have another tale of a marginalised group in New York which hits many of the same notes. Random Family follows a family group in the Bronx for years, leading to a realistic epic of drugs, love, hardship and hope.
9. There There by Tommy Orange
The story of a small group of "Urban Indians" living in Oakland, California planning to attend a Native American powwow in Oakland, California. Impressionistic and lyrical, the book is about how the US works to marginalise these groups, how they persist and thrive and how poverty touches all of their lives.
10. The Boy Kings of Texas by Domingo Martinez
Martinez's memoir about his Mexican American family in a Texas border city in the 1980s is beautiful and sad. It's a personal story about the particular challenges faced by children living in poverty, how immigrant families in the southern states struggle to become American, and what that can sometimes mean.


Shared From Source link Entertainment